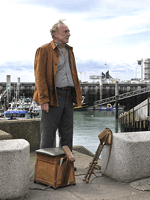 I finally caught up with Aki Kaurismaki's "Le Havre" at Telluride two weeks ago. "I don't count myself as the biggest Kaurismäki fan," I wrote at the time, "but it's very difficult to argue with the heart in this film. It should melt you a bit, if you have warm blood pumping through your veins." I should also note, though, that André Wilms's performance is sensational, and much of the film's emotional undercurrent is owed to his work.
According to Variety, the film has now been chosen by Finland to represent the country in the best Foreign Language Film race:
"Le Havre," directed, written and produced by Aki Kaurismaki, will rep Finland in the foreign-language film Oscar race…The pic was selected by a jury supervised by the Finnish Film Chamber. Jury members included actress, singer-songwriter Kaija Karkinen, director Aku Louhimies, producer Liisa Penttila and director-scriptwriter Ville Suhonen…The film had its world preem in the official selection of Cannes Film Festival, where it was awarded with the Fipresci prize and the special mention of the Ecumenical Jury. It also won best international film at the Munich Film Festival.
Onto the on-going list of titles it goes.
[Photo: Pandora Filmproduktion/Pyramide Productions/Sputnik/Yleisradio]