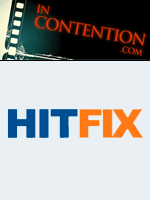 I'm elated to see that this morning's news has been so warmly received, both by the readership here and behind the scenes in the industry. In Contention has been — as my quote mentions in the press release — a labor of love since I opened the doors (on an unassuming Blogspot domain) back in August of 2005. It was never intended to go where it went and its yearly growth and success has been heartening to say the least.
When HitFix CEO Jen Sargent asked me for that quote, by the way, I made it a point of mentioning our community here. Because rest assured, you're all a very important part of HitFix's decision to reach out to us. We share some overlap in audience, but they recognized this as a community alive and engaged, and something they were interested in adding to their pie. It's win-win all around as we'll be reaching a bigger audience with an array of new tools, and that exposure will obviously be a significant commodity going forward.
If you can believe it, these negotiations began as a feeler email a few weeks back. Greg pitched me his full ideas before the "Albert Nobbs" screening in Telluride. Less than two weeks later and we're facing the biggest change the site has ever seen. It's dizzying, scary, exciting, all wrapped up into one. But I have the utmost faith in the HitFix team and infrastructure. We are in very good hands here.
A note on some of the overall changes. First and foremost, the site will be housed under HitFix and a redirect from the incontention.com URL will eventually be put into effect. We will, in fact, be porting over all our archives to the new digs over the course of a few months. I will maintain ownership of the blog and all content therein, and the option will always be there (once the contract expires) to take the material back. I don't foresee that happening, nor do I want that to ever be the case, because as rewarding as building this thing from the ground up has been, the onus of the various hats one wears at this stage can be taxing. So I'm happy to transfer those over to a much more savvy workforce and focus solely on providing content.
Speaking of which, and most importantly, there will be no editorial interference. We will provide you with the same content we have for nearly six years, and since that content is what brought you here and keeps you here, I'm sure you'll be happy to know that it will move forward undeterred. We will even be looking to add to our overall coverage, expanding our off-season flow and basically just raising the ceiling on what we have to offer. But my Off the Carpet columns, Guy's The Long Shot columns, Gerard's unique below-the-line coverage via Tech Support and the Oscar Talk podcast with Anne will all continue to be an important part of our mixture.
There have been a few comments about our design, which is an attractive one for many of you. The reality of moving to the new space is that the blog will conform to HitFix's layout standards. But I have no doubt we will all adapt. I'm working behind the scenes with the design team on this and that, including some exciting new features for our popular Contenders section. After the initial and inevitable learning curve, I'm sure you'll settle in nicely. Trust me.
Guy picked a good time to take a vacation in Greece. He'll be off the map until the middle of next week, and in fact, I imagine the next time you hear from him it will be at HitFix. This will all happen very soon — we're aiming for as soon as Monday — and we'll be off to the races with plenty of awards season chatter to keep us busy. But allow me to thank you again for being the audience you are and for following us into this new phase. I'm very excited for the future, and I hope you are, too.
Kristopher Tapley
Owner/Editor-in-Chief
InContention.com