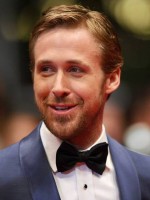 Kris wrote a thorough piece yesterday on the vast number of hard-working actors this year who seem to have two or more dogs in the Oscar hunt — one to which many of you responded with even more names to add to the conversation.
In many cases, talk drifted away from serious awards potential and toward the less unusual occurrence of actors who simply had more than one film out this year: lord knows we all love Marisa Tomei, but nobody's pretending she has more than a 0-for-2 shot at a nomination this time round.
The name that everyone seems to be zeroing in on, however, is Hollywood's current man of the hour, Ryan Gosling: with three prominent films to go with his endless portfolio of magazine covers, style-page paeans and blogosphere valentines, many are quick to assume the Academy will naturally fall in line, despite (or, some will reason, because of) their failure to acknowledge his career-best turn in last year's "Blue Valentine."
Dave Karger fed the fire recently with a piece in which he ruminated on the "dilemma" the actor faces in having to compete against himself for Oscar attention in "The Ides of March" and "Drive," and drawing some rather bemused-sounding answers from Gosling himself on the subject. For some reason, Gosling's one of the few actors I believe when he says he doesn't much think or care about the awards game; he certainly didn't campaign very hard last year, as co-star (and eventual nominee) Michelle Williams worked the circuit.
Even so, I can't help but think Karger and several others are inventing this dilemma out of thin air: viewed realistically, with an eye to the tastes and trends of the Academy rather than the media, only one of Gosling's three 2011 performances is a viable Oscar possibility, and even that one's far from a sure thing. That'd be George Clooney's "The Ides of March," where Gosling headlines as a disillusioned political spin doctor, in the kind of moral middlebrow drama that Oscar often looks kindly upon.
I wouldn't say it's Gosling's best work of 2011, much less his career, and I do wonder whether it's too impassive a performance for the actors' branch — who tend to make younger actors work harder for nominations as it is. But if industry and media momentum is going to build around a Gosling nod this year, this is the vehicle for it to take.
I prefer Gosling's coolly mannered work in "Drive" myself, and I hardly need to reiterate my love for the film on these pages. But to pretend that laconic, image-oriented performance has any chance of Oscar recognition is to enter a parallel history where Steve McQueen was nominated for "Bullitt" rather than "The Sand Pebbles," and where Matt Damon was nominated for his work in the Bourne trilogy instead of "Invictus."
It's a bona fide movie-star turn, but the Academy will always prefer capital-A Acting to action heroes — particularly when "Drive," critically beloved and Cannes-honored as it is, is hardly parked up their alley. (Talk of a supporting nod for "Crazy, Stupid, Love" strikes me as even more far-fetched: that's possibly the category where voters are least sympathetic to jazzy eye-candy support.)
I'd be as pleased as anyone to see Gosling land his (overdue) second nomination this time round, but if it's going to happen, we need to start looking past his ubiquity and at the individual performances — to see the trees for the forest, as it were. In the meantime, the excitement of watching a genuine star emerge after years of careful investment is a phenomenon that needs no Academy rubber-stamping.
[Photo: Zimbio]