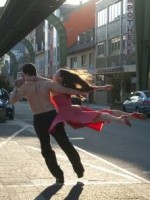 Since seeing the film in February, I've been something of a broken record saying that Wim Wenders's marvellous performance film "Pina" — which has been drawing rave responses at Toronto, and was recently submitted as Germany's entry for the Best Foreign Language Film Oscar — single-handedly restates the case for 3D, a technology that any number of recent Hollywood blockbusters have tarnished somewhat.
While even the most well-executed 3D narrative films have hardly depended on the gimmick for anything more than bonus effect, 3D actively enhances the audience's understanding of the subject in "Pina," where movement patterns and spatial deconstruction in the late Pina Bausch's choreography are brought to the fore, replicating the immediacy and interactivity of live performance.
In this interview with the Toronto Star, Wenders explains how the film is one he'd been wanting to make for 20 years, but couldn't find a way to realize on screen until recent 3D pioneers opened the door:
I always wanted to do it but I didn't know how. Pina's contribution to modern dance is unique. I needed a medium that would interpret dance through her eyes, using her language, and the more I looked through the history of dance film, the bigger my problem became. There's a whole dimension missing in conventional film: space.

Three-D had never crossed my mind. Most 3-D content is rubbish, with the exception ofAvatar, and I am eternally grateful to James Cameron for advancing the form with that film. Then saw the U2 concert film, and it opened a huge door . . . it gave me a way into the missing space, a way to see dance from the inside out.
I said last week that I believe the novelty and pioneering spirit of "Pina" — plus the prestige and sentiment attached to the Wenders brand — could lead the Academy's foreign-language executive committee to look kindly upon the film. I'm less sure what the documentary branch will make of it, if indeed they deem it eligible at all. Performance films have never really found favor with them, and many might not see this one as a documentary per se: bar the talking-head inserts in which dancers reflect on Bausch's legacy (easily its least effective component), all the other action in the film is staged and styled for the camera.
Wenders scored his lone Oscar nod in this category for "The Buena Vista Social Club" in 1999 — losing the award to Kevin Macdonald in something of an upset at the time — but while that film had several performance sequences, they were contained in a more naturalistic performance context. "Pina" is more of a hybrid creature: further taking its technical wonders into account, it'd be nice to see it find some kind of home in awards season, but I'm not sure where.
[Photo: Sundance Selects]