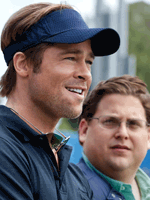 Bennett Miller's "Moneyball" is a tightly constructed piece of work, thematically layered, rich in substance, hard work from two of the best writers in the business clearly evident. And the last thing it is is a sports movie.
The film is about so much. It's a David vs. Goliath story of changing the status quo. It's a journey through the hardship of self-confidence. Most importantly, though, for me, it's a story about the quest for the unattainable being the reward.
Brad Pitt stars as Billy Beane, a former hot baseball prospect out of high school who passed on a Stanford scholarship for a chance to go pro. He was smooth-talked by scouts who knew, with every fiber of their being, that this guy had what it took. And anyone in their right mind would have paid handsomely for him to come to their team and prove them right. But Beane's journey through the sport became one of understanding that no one knows anything about another man's destiny.
Beane became a scout himself after bottoming out as a player and eventually made his way to the position of General Manager of the Oakland Athletics, where he found himself again suffocated by the accepted order of things. All of this is told in flashback (a dicey tactic that is nevertheless pulled off nicely because of how it's eventually tied up by writers Steven Zaillian and Aaron Sorkin). Faced with a much smaller pocket book than rich teams like the New York Yankees, Beane knew he had to do something else, anything else, in order to win.
What this gave way to, I'm sure all baseball fans are aware, is sabermetrics, a system that measures in-game statistics as a gauge for winning, never figuring in stud stats or aiming at reeling in big fish players. As Jonah Hill's Yale economics grad says to Beane in the film, "Your goal shouldn't be to buy players. Your goal should be to buy wins. And in order to buy wins you need to buy runs." It kind of sounds like fool-proof logic but it was a scary thing when it was first proposed by statistician Bill James 30 years ago and it was ignored for years by crabby scouts and front office types who felt that, in order to buy wins, you had to buy superstars. And this is to say nothing of the money quotient involved. With lacking stars comes lacking attendance, lacking sales, lacking agent bonuses, etc. Talk about messing with livelihoods.
(In some ways, that makes the story one focused on the fundamentals of the game. But I will admit there is something lost in dramatizing this method, turning players with lives and hopes and dreams into mere pieces on a chess board. The script attempts to reconcile that with Beane's philosophy on having to fire or trade personnel. "Would you rather take five shots to the chest or one shot to the head?" But it doesn't fully alleviate the fact that the passion from the players' perspective is whittled to incidentals in Beane's risky game.)
All of that is really just the background in "Moneyball" to me, though. It's the frame for a much more profound story. Based on Michael Lewis's book "Moneyball: The Art of Winning an Unfair Game," it's easy to see why smart people, producers like Pitt, Michael De Luca and Scott Rudin, saw so much potential in its pages.
I was struck by Beane's relationship to the baseball stadium in the film. He doesn't watch the games. He doesn't even like to be on the field. During game time, he's in the back, working out, every once in a while glancing at the television, if at all. The film even opens with him, alone in his truck, listening to the Athletics lose the 2001 American League Division series to the studded New York Yankees on a portable radio.
I think Bennett Miller — in his first at-bat (sorry, had to get one pun in) since 2005's "Capote" — directed the hell out of this thing and probably gave it more of a resonating touch than the usually chilly Steven Soderbergh might have lent it. (Soderbergh was, for a time, attached to direct). And given a story already somewhat hindered by the distancing elements of the parenthetical above, the last thing it needed was Soderbergh's icy touch. But the thematic depths Miller and his writers plumb here really stick.
In one scene, for instance, Beane races back to watch his team make history, only to see them nearly miss that mark. One shot of a dark cloud drifting over the stadium lights is all Miller needed to tell that story before Beane retreats back to his place in the depths of the building. Later, when Beane takes a meeting at Fenway Park with a Red Sox owner looking to shake things up with his team, torrential downpour outside tells the story. Beane is not welcome on the field. It's not his place, in baseball or in history.
And that's the story of "Moneyball" to me. It's the story of finding your place, making your impact and having the confidence to know that this is the thing.
Brad Pitt is exceptional as Beane, even if he gives the character a swagger that sometimes reads superficially. Still, Beane (as a character, mind you — I'm sure much of this is dramatized) has to emit self-assurance if he's going to pull this off, so it plays. Jonah Hill is serviceable as the (composited) 25-year-old who keys Beane onto sabermetrics, while Philip Seymour Hoffman gives another great character performance as Athletics coach Art Howe, who butts heads with Beane over his formula-driven philosophy.
Wally Pfister's photography deserves a notice for capturing the Northern California gloom both practically and thematically, and Christopher Tellefsen's film editing is absolutely worth noting for its balance of silent moments and impactful shot selections. The interplay of imagery Miller works with is significant here and kind of hard to explain, but it's delicate and complex all at once.
I've gone and written way more words on this film than I anticipated. I appreciate it for the focused character study that it is. But oddly, I have a hard time seeing the Academy fully embracing it. Pitt would seem to be a good possibility for Best Actor recognition, and the respect Zaillian and Sorkin command (not to mention their classy work on the page) could find room. But I'm not yet convinced there will be enough members slotting this in at #1 on their ballots to assure a Best Picture nomination. It's all too possible they'll read it as "just a baseball movie," but the good news is there is a lot of commercial value here, and that will be crucial.
But I'm happy taking from it what I have: a textured examination of a grown man only now finding his path. Some never do.
[Photo: Columbia Pictures]