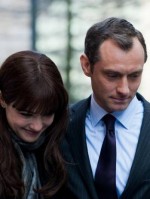 The warning signs were there for "360." An umpteenth reworking of "La Ronde" didn't seem an obvious fit for either Fernando Meirelles or Peter Morgan — a pretty dispassionate writer even on his best form, he came badly unstuck last year when he veered from his fact-based template with "Hereafter."
Meirelles, too, is seeking to bounce back from a flop (2008's "Blindness," in case you've forgotten), and ensemble members Anthony Hopkins and Jude Law have of late been unreliable indicators of quality.
Interest in the film seemed to hover mainly in how it might serve Rachel Weisz, whose multiple lead roles this year — including an acclaimed turn in "The Whistleblower" and a buzzy one in "The Deep Blue Sea" — have many wondering if a second Oscar nod could be on the cards. It might be, but tepid reviews following the film's premiere suggest it won't be for "360."
The Guardian's Catherine Shoard strikes hardest with a one-star pan:
The pitfall of ensemble drama is that any strands that do engage are over too soon and, if mishandled, the condensed nature of each story takes its toll on potential subtlety… It's a two-hour slog stuffed with shortcuts, populated by puppets who must indulge in behaviour that isn't just off-kilter, it's off the wall.
Collider's Matt Goldberg is almost as disapproving, giving the film a D rating and concluding that it "goes through multiple lives and multiple cities.  It also goes absolutely nowhere." He takes a brief time-out to praise the performances of Ben Foster and Anthony Hopkins, while mourning their underdeveloped characters.
The Projector's Tim Grierson is more constructive, but is ultimately unconvinced by the film's take on modern relationships:
Quite often, characters are either engaged in affairs, leaving a relationship because of an infidelity, or pondering a potential infidelity. The repetition of these actions doesn't make them seem universal or empathetic. Rather, they come across as melodramatic and pedestrian, which doesn't help when the filmmakers keep piling on the chance encounters and exploiting too-tidy scenarios that force seemingly mismatched characters into the same setting.
As for the trades, Variety's Peter Debruge joins the chorus of sighs, stating that it's "virtually impossible for the cast to remain plausible going through the paces of such a conceptually on-message movie." Like Goldberg and Grierson, he singles out the work of Foster and Hopkins, but the consensus is that no one cast member is given enough to work with.
It's not all bad news, however: at least one major critic has gone out on a substantial limb for the film. Screen Daily's Mark Adams doesn't just like it — he declares it "a masterpiece of structure… an intelligent and engaging filmic drama that is never less than absorbing." As more reviews roll in, however, it seems increasingly likely that'll remain a minority view.
As well as a disappointment for the filmmakers, these reviews pour a bucket of iced water on next month's London Film Festival, which selected "360" as its opening film. After last year's better-received but still diminished "Never Let Me Go," this marks the second year running the festival has chosen to kick off with a Toronto underachiever.
[Photo: BBC Films]