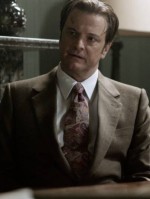 One craft aspect I didn't get around to praising in last week's review of "Tinker, Tailor, Soldier, Spy" is the immaculate costuming by Jacqueline Durran — a designer with only 11 feature credits under her belt, yet one who already seems something of an institution.
Durran is one of those rare designers capable of equal deftness and creativity in period and contemporary work: her reputation will likely forever rest on that green evening gown from "Atonement," but she was also responsible for the highly idiosyncratic thrift-store ensembles worn by Sally Hawkins in "Happy-Go-Lucky." (Indeed, she's been a loyal member of Mike Leigh's crew for the last decade.)
Her male-centric work on "Tinker, Tailor," meanwhile, falls somewhere in between. Set in 1973, the film is a highly specific period piece, but one whose costumes call for the subtle character focus and practicality of her modern-day work. The gentlemen's game of British espionage calls for some dapper suiting, and the film is every bit as stylishly dressed as you'd expect one that thanks Sir Paul Smith first in its closing credits to be.
But while it would have been easy to roll out a few yards of tweed and tailor a few nice suits to match the the film's mannish brown-and-gray palette, Durran's work is more artful and individual than that — the cut, fit and fabric of the standard MI6 dress code varies appropriately from character to character, depending on their age, class and career trajectory. There's a world of difference, for example, between the try-hard, wide-lapelled contemporary tailoring favored by Benedict Cumberbatch's upstart young agent and the darker, more classical serge three-pieces worn by Gary Oldman's practised old-boy type. (The on-set tie rack, meanwhile, must have been something to behold.)
Having noted this rich level of detail in the film, I was pleased to see The Guardian carrying a full interview with Durran, in which she explains the thinking behind the costumes, and she consciously avoided on-the-nose period flourishes:
Durran looked at contemporary images of politicians and civil servants to get an idea of how men of a certain age and status dressed. Anxious to avoid the cliches of early-1970s fashion, such as loud colours and bold patterns that would have been out of place in Alfredson's elegant, wintry film where sunlight is seldom seen, she also researched earlier decades for inspiration.

"I thought that lots of these middle-aged men had bought suits 10 or 15 years ago and stuck with them," she says. "I would look at a character and try to work out where they had bought their suit."

She decided that everything in the film could have been bought from shops within half a mile of Piccadilly in London: "Things from Savile Row, Jermyn Street, Fortnum & Mason, Burlington Arcade – one of those upper-middle-class shops that are never fashionable but always do a certain kind of clothing."
This is a textbook example of the kind of character-oriented and situation-led decisions that awards voters should be considering in the Best Costume Design category — as opposed merely to which film has the most ornate fabric and most opulent ruffles.  It's always an uphill climb for later-period pieces to get Oscar recognition in this category, particularly one with a mostly male cast: voters are suckers for prettiness here, which usually translates to lace corsets and hoop skirts.
Still, a well-deserved nomination for "Milk" a couple of years ago suggested the branch isn't entirely blind to the merits of drab post-1960s menswear, particularly if the film itself is in good shape: with two nominations for more traditional costume-category fare under her belt, it'd be nice to see this more soberly well-dressed film provide Durran with her third.
[Photo: Focus Features]