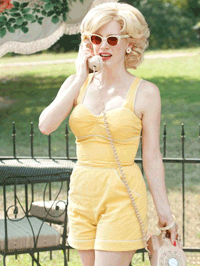 We find ourselves right in the middle of the big Toronto press junket, er, film festival, where 200-plus films are landing, many of them as world premieres, and the landscape of this year's Oscar race is really beginning to take shape.
As I looked out at the various films in play this year, it suddenly occurred to me that, perhaps more than ever, there are a lot of double-dipping actors and actresses in the hunt. Not all of these performances are or will be awards bait necessarily, but there could still be cases for more than a few saddling up to dual nominations this year.
At the top of that list would have to be Brad Pitt. After already giving what many believed to be his best performance to date in Terrence Malick's "The Tree of Life," the paparazzi-hounded star found himself the recipient of a lot of great ink for his work in "Moneyball" when it screened in Toronto at the end of the week. Wisely, Fox Searchlight will be planning a supporting actor push for the actor in Malick's film, which is both practical (given his clear lead in the other film), and organic (given that, at least in my opinion, he is supporting to Hunter McCracken's lead in "The Tree of Life").
Also perhaps in the running for a dual berth is Tom Hardy. He gives a remarkably controlled performance as a co-lead of "Warrior," best in show, even. While that film's Oscar tale will largely be told by box office receipts, it nevertheless is a big winner with older audiences and Academy types, and he'll be on the circuit, charming them every step of the way.
But Hardy is also notable in "Tinker, Tailor, Soldier, Spy." I asked Guy for his thoughts on Hardy in the film, and his potential for a nomination. "I think Hardy's terrific in the film," he told me. "The combination of his breakout year and the fact that he has the most charismatic character in the film makes him the most obvious contender, if one emerges." He was quick to note, however, that given the vast male ensemble of supporting men, and the across-the-board quality of performances, many people could have different favorites.
One of those is Benedict Cumberbatch, by the way, who ought to be included in this space as he will also show up later this year in Steven Spielberg's "War Horse."
The poster child for multiple performances this year is Jessica Chastain. She's already appeared in three films that have seen release — "The Tree of Life," "The Help" and "The Debt" — stirring awards chatter for each performance. She has "Take Shelter" and "Coriolanus" still to come as well as "Wilde Salome" and "Texas Killing Fields" in the recently concluded Venice film fest (where she won an award that ought to be attributed to her prolific status this year).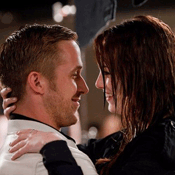 If one performance makes the most sense for a nod from this bunch, it would be her work in "The Help." But unfortunately these are all supporting performances for the actress. If the Academy rules didn't stipulate that an actor or actress couldn't be nominated twice in a category, she could probably land a handful of slots herself.
Moving along, Chastain co-stars with Ralph Fiennes in his own film, "Coriolanus," which could stir consideration for Fiennes in the lead Shakespearean role. He already gave what was considered by many to be the best performance of the Oscar-aiming "Harry Potter and the Deathly Hallows: Part 2."
Speaking of Potter Mania, David Thewlis reprised his role from the franchise briefly in that closing installment. No, it's not something to watch for awards, but his work in "War Horse," Roland Emmerich's "Anonymous" and, most especially, "The Lady," could very well be. I hear he's quite strong in the latter, a co-lead piece with Michelle Yeoh that will no doubt see him relegated to a supporting campaign.
I've gotten so deep here that I'm coming around to Ryan Gosling way later than I'd have liked. The actor dazzled audiences at Cannes with his remarkably internalized work in "Drive," which hits theaters soon. He's also received a lot of appreciation for his work in summer romantic comedy "Crazy, Stupid, Love" (opposite Emma Stone, who is front and center in "The Help"), not to mention his headlining George Clooney's "The Ides of March." Two of those films are playing Toronto as we speak.
And, speaking of Clooney's fourth directorial effort, the multi-hyphenate also stars, though briefly, in the film. He isn't likely to drum up awards support for his work therein, but the added exposure can't hurt his chances for "The Descendants." Also starring in "Ides" are Philip Seymour Hoffman, present elsewhere in "Moneyball," and Paul Giamatti, who will come back around in a campaign for early-year release "Win Win."
Going back to "Coriolanus," Vanessa Redgrave had a flag planted on her behalf by Guy way back at the Berlinale in February, but she'll add more fuel to that fire with her fantastic portrayal of Queen Elizabeth I in "Anonymous."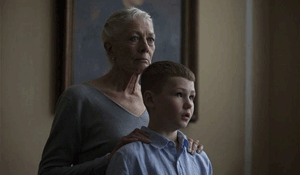 Let's see. Elle Fanning has already generated a lot of respect for her work in the summer blockbuster "Super 8," and she still has Cameron Crowe's "We Bought a Zoo" to come (as well as, eventually, the apparent Francis Ford Coppola misfire "Twixt"). Kate Winslet has a small-ish part in "Contagion" that she nevertheless nails (across from Marion Cotillard, also present in "Midnight in Paris," and Matt Damon, who turns up in "We Bought a Zoo"). Winslet gets more to chew on in Roman Polanski's "Carnage," starring with John C. Reilly, who gets some time opposite awards hopefuls Tilda Swinton an Ezra Miller in "We Need to Talk About Kevin." And Bryce Dallas Howard is very good in "The Help" while continuing to stretch herself with an unlikeable character in "50/50."
With the recent news that Fox Searchlight picked up Steve McQueen's "Shame," you have to at least humor Michael Fassbender in all of this. He is a bit of a non-issue in "A Dangerous Method," but he gives his best performance to date in McQueen's film (and benefits from added exposure at least in "Jane Eyre" and "X-Men: First Class.")
If you can believe it, I haven't even scratched the surface yet. There are a boatload of performances in films still looking for distribution that could add to actors' causes.
Let's start with Jude Law, who is already visible in "Contagion" (probably the best part of the film), and with Martin Scorsese's "Hugo" still to come, he's also in Fernando Meirelles's "360," playing Toronto this week (though leaving critics cold).
Speaking of "360," Rachel Weisz headlines that film and is also in "The Whistleblower," which played Toronto in 2010, to say nothing of her rumored-to-be excellent work in Terrence Davies's "The Deep Blue Sea."
Christopher Plummer started the season as a good bet for supporting actor recognition in "Beginners," but he stars in a one-man show in Toronto called "Barrymore" that many are calling a potential Best Actor play, before wrapping up the year in David Fincher's "The Girl with the Dragon Tattoo."
And then there's the most unique double-dipper of them all, Andy Serkis, whose motion-capture performance in "Rise of the Planet of the Apes" has already stirred awards talk from those who think he deserves to be in the hunt. And he'll have another mo-cap turn in Steven Spielberg's "The Adventures of Tintin: The Secret of the Unicorn" later in the year. Not that anything will come of all of that, but it's worth a mention.
My fingers are tired. So apologies to Ewan McGregor, Emily Watson, Judi Dench, Carey Mulligan, Michelle Williams, Robin Wright, Thomas Haden Church, Matthew McConaughey, Mia Wasikowska, Marisa Tomei, Ben Foster and whomever I surely forgot, but I think you get the point. The deck is stacked with double-, triple-, quadruple- and, hell, septuple-dippers this year. I can't recall another season with so many prolific stars on display. It'll be fun to watch the various shades of these performers' talents throughout.
I've run a comb through the Contenders section once more and the sidebar predictions reflect those changes. More as the Toronto fest forges ahead.
[Photos: Walt Disney Pictures, Warner Bros. Pictures, The Weinstein Company]