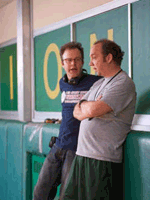 Two years ago author and journalist Mark Harris wrote what I think is one of the most salient Oscar season observances ever squeezed out of this unnecessary corner of the web. I always look to him for one of the most above-the-fray, but smart and informed, perspectives on a given season. And this piece over at Grantland is a great example, too.
He reduces these early days of the awards season to the echo-chamber they've come to represent. And I don't count myself out of the insanity he cuts everything down to with this precise paragraph:
If you're like most moviegoers, or most Academy voters, you don't attend any of these festivals. So "buzz" is really code for a two-way conversation conducted between a handful of awards handicappers eager to anoint or dismiss potential contenders, and a handful of studio publicists and independent firms who are listening for the dog-whistle frequency that tells them that somebody thinks their movie might be in the running.
The run-on sentence that follows that bit is also incredibly biting and hits the mark oh so squarely. But ultimately the piece hinges on four choice lead actor performances in indie films that could be ripe for a "save a seat" campaign, as he dubbed Jacki Weaver's unlikely track last year.
(Additionally, he touches on a point I've been saving for next week's post-Toronto Off the Carpet column — that this year is refreshingly free of an anointed "frontrunner" out of Venice/Telluride/Toronto frame, leaving the whole game wide open in mid-September for a change.)
Give it a read over at Grantland. I'm assuming/hoping this "Oscarmetrics" thing will be an on-going deal. Also, follow Mark at Twitter, where he recently joined up. Well worth the attention.
[Photo: Fox Searchlight Pictures]