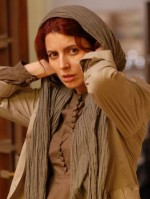 I'd say this was a no-brainer, but one should never underestimate the ability of countries to shoot themselves in the foot when selecting their submissions for the foreign-language Oscar. Happily, Iran has done no such thing, picking Asghar Farhadi's critically beloved festival sensation "A Separation" as their pony this year.
It's a choice that I suspect will pay off handsomely. I'll be astonished if the film doesn't at least make the January shortlist — it should play well enough with general voters, but the executive committee should swoop in if it doesn't. It's not too much of a stretch to imagine this smart, humanistic marital drama going all the way to the podium, particularly with Sony Pictures Classics — unmatched campaigners in this category — steering the film.
Ecstatic critical notices at Toronto and Telluride (Kris's take here) are merely the newest feather in the film's cap: it already nabbed the Golden Bear (plus Best Actor and Actress) at February's Berlin fest, and was released to a shower of acclaim in the UK this summer. If the buzz continues to build for this late-December release, could Sony even angle for extra attention in the highly pliable Best Original Screenplay category? A far-fetched suggestion, perhaps, but I wonder.
This is Farhadi's second time at bat in the Oscar game: his breakout feature "About Elly" was unsuccessfully submitted two years ago. Indeed, Iran has had no luck in this category since scoring its first and only nod in the 1998 awards; I suspect the drought ends here. Reviewing "A Separation" (under its former, more unwieldy title) in February, I described the film as "commendably tricky adult storytelling… [playing] out with all the momentum and immediacy of a well-constructed thriller." Kris was similarly impressed at Telluride last week.
Iran isn't the only Middle Eastern country with its eye on the prize: Lebanon has submitted Nadine Labaki's "Where Do We Go Now?," a serious-minded comedy with musical elements that premiered to warm reviews in Cannes' Un Certain Regard section, where it earned a special mention from the Ecumenical Jury.
I didn't see the film myself, but this story of a group of village women trying to instigate peace between rival Christian and Muslim communities was reportedly an audience favorite at the festival, and appears to have the blend of issue-based gravity and populist sentiment that the Academy might like. Labaki's previous film, the appealing arthouse hit "Caramel," was (surprisingly, I think) unsuccessfully submitted in 2007 — could she go one better this time? If the Academy decides there's only room for one film from that geographic region, my money's on Farhadi.
Check out our updated list of submissions here.
[Photo: Sony Pictures Classics]