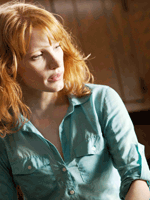 In the midst of early-season festival madness (and sometimes lost in the clutter) is the Deauville Film Festival, which concluded this weekend. Top honors went to Jeff Nichols's "Take Shelter," a film of which I'm a big proponent.
To start the festival, though, one of the film's stars, Jessica Chastain, shared the "New Hollywood" award with Ryan Gosling. It's notable as the second festival notice for the actress, following the Gucci Award for Women in Film at the Venice fest.
I know Sony Classics will be positioning films like "Midnight in Paris," "Carnage" and "A Dangerous Method" for awards attention, not to mention another healthy slate of foreign film hopefuls. But I hope this gem isn't lost in that fray this year. It's clearly a film people are responding to (having already taken the Grand Prix at Cannes earlier in the summer.) My fingers crossed for it. More reactions will land out of Toronto as it screens throughout the week. Check out the trailer after the jump.
[Photo: Sony Pictures Classics]