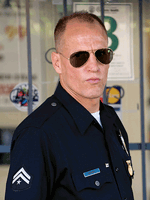 One of the more anticipated Toronto bows, for me, is Oren Moverman's "The Messenger" follow-up, "Rampart." I was a big fan of his last effort and have been intrigued by the possibility of Woody Harrelson bubbling up in the Best Actor race (assuming a studio bites on the film).
But things aren't looking stellar for the film just yet, as most of what I'm reading is negative, with a few positive bursts here and there. (Just judging by the cross-section, though, I expect to be on board.) More reactions will come throughout the fest, so this early glance isn't necessarily meant to establish the overall perception.
Starting with the trades, Variety's Justin Chang calls the film "well-wrought," singling out Harrelson by offering that the actor "is excellent as a cynical, trigger-happy officer oblivious to the fresh winds of change and accountability sweeping through his embattled department." He nevertheless found the film on the whole to be a "not entirely satisfying character study."
The Hollywood Reporter's Kirk Honeycutt is down on the film, too, accusing that "where The Messenger found that truth within the trauma of war and its aftermath, Rampart finds only emptiness."
Over at Movieline, Stephanie Zacharek offers one of the few positive assessments. "[T]he more I thought about it, the more it seemed that the movie ended in just the right place," she writes, "taking us as far as we can go with this loose-cannon cop before he's left to face his own isolation. Once we, the audience, part ways with him, he's truly on his own."
The Playlist's Kevin Jagernauth was similarly impressed, particularly with the aesthetic, detailing "a great sequence in the second half of the film in which Dave, nearing rock bottom, spends a night wasting away at an underground industrial club. Once again, Moverman side swipes a conventional approach and deliver[s] something we'd expect from someone like Gaspar Noé."
Screen Daily's Howard Feinstein calls it the film "self-consciously disjointed" and pretty much disses the film on the basis of being contrived. He offers measured praise for Harrelson's performance but makes it a point of noting that the actor's method here "could prove too solipsistic for some."
Interestingly, Feinstein brings up the setting of the film, Los Angeles, accusing it of feeling like a "construct." I noticed at the New York Times' Arts Beat blog that Michael Cieply chose that as his angle, observing that "the city, clearly by design, only sporadically looms large in a picture that is really, as they say, about the people."
At the end of the day, even the negative assessments have me interested.
[Photo: Waypoint Entertainment/Amalgam Pictures/Lightstream Pictures]