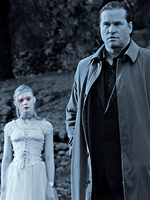 I stand by my (out of context) excitement for Francis Ford Coppola probing the outer reaches of what we expect of cinema, but it appears "Twixt" nevertheless came and underwhelmed (to say the least) in Toronto, failing to fully reach its aspirations.
Tweets Motion/Captured's Drew McWeeney:
It is appropriate that they screened Coppola's "Twixt" today, because it is a freakin' disaster.
The Hollywood Reporter's Kirk Honeycutt:
The pity is that the narration has got it all too right: His writer's story is indeed third-rate.
The Playlist's Corey Everett:
Personally, we're not sure if there is any way the film can be remixed or edited into something worthwhile, iPad or no, and for us, this is one dream he probably should have forgotten.
Spout's Christopher Campbell:
I should have let the elite press have Twixt to themselves. Oh god…
And it gets worse when you look across just general fan and attendee reaction. Ouch. Back to the drawing board, I guess.
UPDATE: Finally a positive spin on things today. Variety's Rob Nelson:
…this disarmingly cheeky, intermittently gorgeous trifle would create the perfect bookend to a career begun almost 50 years ago with the Roger Corman-produced schlocker "Dementia 13."
Movieline's Stephanie Zacharek:
Twixt is a bit of a mess, but it's also joyful and wicked, with a great, roly-poly sense of humor about itself. In its imaginative WTF-ness, it reminds me of Bob Dylan's gloriously whacked-out Masked and Anonymous, just the sort of thing you'd expect a crackpot genius left to his own devices to make.
[Photo: American Zoetrope]