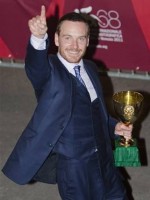 To judge from the press reaction to yesterday's Venice Film Festival awards, you could be forgiven for thinking that Michael Fassbender won every single one of them, plus an extra certificate for full attendance.
That'd hardly be surprising in any circumstances, given Fassbender's growing celebrity and the media's reliable aversion to world cinema. Best Actor was the only major prize handed to an English-language film, after all — prompting cries of "Boring!" in many a comment board, for what in cinema is more boring than subtitles and faces you don't immediately recognize?
But I'm being unfair. Surely one reason for Fassbender hogging last night's Lido headlines — with Golden Lion winner "Faust" generally relegated to a grudging postscript — is that his was one choice made by the jury that nearly everyone could agree upon, and had indeed agreed upon since "Shame"'s first screening a week before. I'd have been equally happy with an award for quick-witted "Carnage" savior Christoph Waltz, but I'm pleased the more exciting film got indirectly honored.
The combination of Fassbender's busy year and bonus Venice appearance in "A Dangerous Method" may have given this award a faintly automatic air, but no less hard-earned for it, as it stamped the official seal on the Irish-German actor's Next Great Thing profile. Would that the love-in had started a couple of years ago, when he was doing equally impressive work in the likes of "Hunger" and "Fish Tank," but better late than never. (Meanwhile, does anyone even remember he was in "Jonah Hex?")
But here I am, getting as distracted as everyone else by the Best Actor winner (and shamelessly baiting you with a photo, to boot), when I meant to say something about how the muted reaction to the other prizewinners is perhaps indicative of an uneven festival competition, where many of the most critically stimulating films were far from broadly embraceable. Indeed, maybe I'd be more tempted to lead with "Faust" if I was a little less cool on the film myself.
I've already discussed my own reservations about Aleksandr Sokurov's undeniably substantial Goethe adaptation (and heartily recommend Jay Weissberg's more detailed and diplomatic, but similarly detached, Variety review), but even the its estimable believers seem to describe it as a film to be admired rather than taken to bed. Jury president Darren Aronofsky described the film as life-changing in a press conference, but I have yet to encounter such wild-eyed passion first-hand, which makes me curious about what kind of life this proudly opaque film will have outside the festival-circuit greenhouse: Sokurov's work has always had to work hard for distribution, and with "Faust" being at least as dense and mannered as any of his films, this could be an interesting test of how much sway festival trophies really have.
As it stands, this year's Golden Lion selection is one I like in theory, if not in practice. Aronofsky's jury is to be commended on rallying around a challenging work from a truly significant filmmaker — and flummoxing populist-minded pundits who will now describe this as a "surprise" win over such obvious non-contenders as "Carnage" (much touted by the European press) or "A Dangerous Method." Better yet, they opted for a winner that screened in the festival's closing days, after many journalists had left for Toronto, making a welcome (however unconscious) stand against the Venice directors' excessive frontloading of the programme. Hurrah for "Faust," then, for all these reasons. I just wish it was better.
Many critics were even more aggravated, however, by the two effective runners-up in the Competition. Jury Prize winner "Terraferma" was so tepidly received by the non-Italian press that I struck it from my viewing list, despite being a fan of director Emmanuel Crialese's "Golden Door." Meanwhile, many didn't even see Best Director winner Cai Shangjun's "People Mountain People Sea," thanks to embarrassing technical malfunctions at both the surprise film's press screenings. I've even heard some snide, improbable speculation that the award amounts to an apology from the festival for botching the little-known Shangjun's big arrival; as I wrote earlier, however, the film is impressive enough to justify the award. It's hard to see either film having much impact in the real world.
Two lesser awards went to films that I imagine having a slightly healthier life on the arthouse circuit, thanks in part to the critical following their directors have accumulated. Best Screenplay is an award I've heard described by former members of big-league juries as less a specific writing award than a general acknowledgement of a film with some, but not enough, keen jury support: whether that's true or not, it seems an insufficient reward for the breathtaking formal poise and invention of my own festival favorite, Yorgos Lanthimos's "Alps," a film that should retain the audience of "Dogtooth" (even if it probably won't land Lanthimos a second Oscar nomination).
I couldn't be more thrilled to see Robbie Ryan, indubitably one of the most gifted cinematographers at work today, finally land some big-league recognition for his earthily poetic lensing of Andrea Arnold's "Wuthering Heights" — a film that, while a hard sell to distributors hoping for more genteel period pleasures, I see provoking more lasting cinephile debate than many of the festival's more generously lauded and rewarded films.
Devoted Oscar-watchers, of course, will have found few pointers among the jury's decisions: I don't think I'm underestimating the Academy's fondness for Russian-formalist interpretations of German literature when I say that Michael Fassbender is the only one of yesterday's winners with so much as a theoretical chance of awards recognition across the ocean, and I remain highly sceptical of even that possibility. (As if so often the case at European festivals, the film that came out of the Competition with the most US awards-season steam, "Tinker, Tailor, Soldier, Spy," is one that proved too middle-of-the-road for the jury's affections.)
Certainly, comparing the Venice awards list to the choices of this year's Cannes jury — which reasonably rewarded the likes of "The Tree of Life," "Drive," Kirsten Dunst and at least one film destined for major Oscar attention — calls into question which is currently the more forward-thinking of the two most prestigious European festivals. What Darren Aronofsky and his esteemed peers provided yesterday was a helpful reminder that all film awards, just like all film, need not filter into one monoligual conversation, and we thank them for that.
(That effectively wraps up this year's Venice coverage, though I'll serve up some notes on a few remaining highlights, include Jonathan Demme's strong documentary "I'm Carolyn Parker," soon enough.)