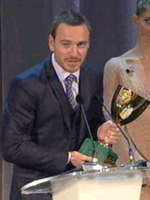 Guy is currently in transit from Venice (where, once again, he offered some bang-up coverage throughout — much appreciated). I'll let him address the bulk of this when he touches down, but for now, a big win out of the festival for "Shame" in Michael Fassbender's Volpi Cup victory. In accepting the award, Fassbender tipped his hat to actor Gary Oldman (whose "Tinker, Tailor, Soldier, Spy" was at the fest), remarking, "I've followed him since I was 14 years old."
Festival jury head Darren Aronofsky called this year's crop of Venice selections "exhilarating and maddening" for the very same reason: it was a quality bunch, and whittling things down for today's festivities was, naturally, a chore. "We have so many worthy films and so few prizes to give," he said, before adding, "International cinema is alive and well." And indeed, Venice's line-up seems to get more and more impressive each year. As it should for the world's oldest film festival.
On the Golden Lion winner, Aronfsky noted, "Some films make you laugh, some films make you cry, some films change you forever after you see them." He then announced that the award would go to the great Aleksandr Sokurov for "Faust." Guy had a hunch that film would be close but no cigar.
More on all this from Guy when he's back in pocket. A lot more, I imagine. For now, the full list of Venice winners:
Golden Lion (Best Film)
"Faust"
Silver Lion (Best Director)
Cai Shangjun, "Ren shan ren hai (People Mountain People Sea)"
Coppa Volpi (Best Actor)
Michael Fassbender, "Shame"
Coppa Volpi (Best Actress)
Deanie Yip, "Tao Jie (A Simple Life)"
Special Jury Prize
"Terrafirma"
Osella (Best Screenplay)
"Alps" (Giorgos Lanthimos, Efthymis Filippou)
Osella (Best Cinematography)
"Wuthering Heights" (Robbie Ryan)
Marcello Mastroianni Award (Best Young Actor)
Shota Sometani, Fumi Nikaido, "Himizu di Sion Sono"
FIPRESCI Award
Best Film, Venezia 68: "Shame"
Best Film, Orizzonti and International Critics' Week: "Two Years"
SIGNIS Award
"Faust"
Special Mention: "A Simple Life"
Premio del pubblico "Kino" – International Critics Week Award
"Là-Bas"
Label Europa Cinemas Award
"Présumé Coupable (Guilty)"
Leoncino d'Oro Agiscuola (Golden Lion Cub) Award
"Carnage"
Cinema for UNICEF Commendation: "Terraferma"
Francesco Pasinetti (SNGCI) Award
"Terraferma"
SNGCI Commendation: "L'ultimo terrestre"
Brian Award
"The Ides of March"
Queer Lion Award (Best Gay Film)
"Wilde Salome"
Arca CinemaGiovani Award
Best Film Venezia 68: "Shame"
Best Italian Film: "L'ultimo terrestre"
Biografilm Lancia Award
"Black Block"
Jury Award: "Pivano Blues – Sulla strada di Nanda"
C.I.C.T. UNESCO "Enrico Fulchignoni" Award
"Tahrir 2011"
CICAE Award
"O le tulafale (The Orator)"
CinemAvvenire Award
Best Film Venezia 68: "Shame"
Best Film – Il cerchio non è rotondo Award: "O le tulafale (The Orator):
FEDIC Award
"Io sono Li"
Special Mention: "Pasta nera"
Fondazione Mimmo Rotella Award
"L'ultimo terrestre"
Future Film Festival Digital Award
"Faust"
Special Mention: "Kotoko"
Nazareno Taddei Award
"Tao jie (A Simple Life)"
Lanterna Magica Award (CGS)
"Io sono Li"
Open Award
Marco Müller
La Navicella – Venezia Cinema Award
"Tao jie (A Simple Life)"
Lina Mangiacapre Award
"Io sono Li"
Special Mention: Fabrizio Cattani – "Maternity Blues"
Gianni Astrei pro life Award
"Tao jie (A Simple Life)"
AIF – FORFILMFEST Award
"Scialla!"
Mouse d'Oro Award
"Killer Joe"
Mouse d'Argento: "Kotoko"
UK – Italy Creative Industries Award – Best Innovative Budget
"L'arrivo di Wang"
Equal Opportunity Award
"Tao jie (A Simple Life)"
Gillo Pontecorvo Award – Arcobaleno Latino
Gaetano Blandini, Nicola Borrelli, Gian Marco Committeri, Roberto Lo Surdo, Mario La Torre
Christopher D. Smithers Foundation Special Award
"Himizu"
Interfilm Award for Promoting Interreligious Dialogue
"Girimunho (Swirl)"
Vittorio Veneto Film Festival Award
"Scialla!"
Special Mention: "Eva"