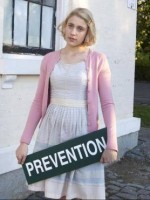 "Oh, Christ, that means it's going to be shit," wailed a friend of mine, an ardent devotee of long-dormant American auteur Whit Stillman, when the director's new film, "Damsels in Distress," was announced as the Closing Night film of this year's Venice Film Festival.
I consoled him that it needn't be the case, but only half-heartedly. It's an unwritten rule of major festival programming that the closing film should be, if not shit, at least aggressively mediocre — particularly at Venice, so as not to antagonize the hordes of journalists who have already departed for Toronto. God forbid they should be given a reason to stay.
Last year's selection was certainly the kind that benefited from being seen by as few eyeballs as possible: Julie Taymor's ghastly adaptation of "The Tempest" was both the nadir and epitome of festival closers, its ill fortunes seemingly cast in stone even before the critics stuck the boot in. The unfailingly literate, stylish Stillman couldn't have made a film that bad, could he? Surely not. And yet why was Venice director Marco Mueller burying it at the end? And why was the first film in 13 years from this critics' darling not in  Competition?
I couldn't answer these questions before today, and I'm still at a loss after seeing "Damsels in Distress" (***1/2) this morning. For it gives me no small amount of pleasure to report that Stillman's latest is an unequivocal delight — a warmly off-kilter and wholly unique campus comedy that has not only redeemed an otherwise sluggish final few days on the Lido, but has provided the purest shot of joy in the entire festival.
That's not to say Stillman has gone cuddly in the lengthy hiatus that followed 1998's "The Last Days of Disco": the director's many patient fans will find his skewed wit and dryly affectionate mockery of the East Coast upper classes pleasingly intact, even if the film surrounding these virtues is perhaps a shade broader and more heightened than his three previous features. Newcomers to his work might take a few scenes to adjust to his exactingly verbal, language-besotted humor, which can turn on a single line from sweetly daffy to cuttingly perceptive — if "black whimsy" is a genre, he's still one of its foremost practitioners — but should be lured in by the frisky pace of the piece, not to mention its luxuriance of finely whittled one-liners. (My note-taking during the screening swiftly devolved into shaky-handed transcription of every second line of dialogue, none of them now legible owing to my convulsions of laughter.)
It takes a director as well-versed in the childishness of the adult bourgeoisie to relocate the cliquey high-school concerns of "Mean Girls" and "Heathers" to the supposedly bigger playing field of a privileged university. Michael Lehmann's beloved 1989 teen satire perhaps gets a hat-tip with Stillman's florally-monikered titular damsels: Violet, Lily, Rose and, well, Heather are a quartet of seemingly beatific, twinset-clad undergrads who  have taken it upon themselves to run the university's Suicide Prevention Center.
Dishing out vague advice and highly suspect tap-dance therapies to students they smugly deem less balanced than themselves ("We're all flawed… must that render us mute to the flaws of others?"), they bask in a status of self-imposed royalty on campus — until queen bee Violet (Greta Gerwig) breaks up with her lunk-headed boyfriend, entering a state of depression that upends the group's entire marshallowy system of values. Meanwhile, new addition Lily (former "America's Next Top Model" finalist Analeigh Tipton) finds herself questioning Violet's dominance, just as the two begin passive-aggressively fighting for the attentions of Adam Brody's charlatan English Lit student.
Such is the slender, silly framework for a jauntily structured, skit-heavy study of self-healing, self-education and the inherent difficulty of starting national dance crazes — zingily shot in calculatedly overlit Easter-egg pastels (bringing out the best in Ciera Wells's loopy, era-blurring costume design) and performed with deadpan gusto by a handpicked cast of indie upstarts and youth TV survivors.
It's tempting to imagine that the reason for Stillman's 13-year gap between features is that he was merely waiting for an actress as ideally attuned to his oddball intelligence as Gerwig: a quicksilver comic actress often cornered into passive roles, she's on gloriously spry, expressive form here, finding reserves of empathy, however blinkered, in a character that many might play as an unremitting nightmare. (Her cohorts are very nearly as impressive, notably Megalyn Echikunwoke, whose gleefully mannered timing seems set to make "playboy and operatOR type" a beloved catchphrase among Stillman fiends.)
"Damsels in Distress" is a rarefied pleasure, no doubt — Stillman's cockeyed cinema of first-world problems was an acquired taste in the 1990s, and is probably even more so now, though the film has almost certainly found the right home in arthouse distributor Sony Pictures Classics.
Whether it plays as well to paying arthouses as it did this morning to fatigued critics hungry for laughs after a wearyingly solemn festival remains to be seen, but the more important question has already been answered: one of American independent cinema's most singular comic voices has lost none of its eloquence or eccentricity in its overlong silence. "Things are looking up," sing Gerwig and Brody in the perfectly klutzy musical number that rounds out the film (the song a nod to the 1937 Fred Astaire musical "A Damsel in Distress"). They certainly are — and not just for a happily resolved Venice Film Festival.
[Photo: Sony Pictures Classics]