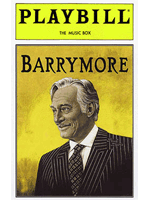 I've been hearing for a little while about "Barrymore," Erik Canuel's adaptation of a one-man show featuring Christopher Plummer as the great actor John Barrymore. Assuming a distributor gambles on the film in Toronto (it's tough to sell a one-man show, no doubt), it's entirely likely Plummer will be thrust into the Best Actor field (depending on who picks it up, naturally).
Jeff Wells is singing the film's (and Plummer's) praises (with another big helping of definitives):
[A]fter seeing Plummer charm and electrify and ham it up and speechify in gloriously boozy Shakespearean fashion in Barrymore, which I saw a couple of hours ago at the Bell Lightbox, I'm all but convinced he has the Oscar in the bag…As long as the Academy sees this low-budgeted Canadian film, that is. Once they all see it, the game will be pretty much over.
Here's a collection of quick clips from the stage production:
And here is Atom Egoyan's impressions of the stage performance from February, courtesy of The Montreal Gazette. Egoyan moderated the Q&A with Plummer following the film's afternoon Toronto screening today:
More on this (though briefly) Monday, as the Off the Carpet column addresses the massive amount of double- and triple-dipping performers this season.
[Photo: Playbill]