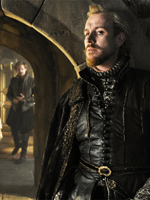 I've had a sharp eye on thoughts on and reviews of Roland Emmerich's "Anonymous" out of the Toronto film fest. I had expected to be alone in my appreciation for the film (having heard of quite a few detractors), but I must say I was relieved to see that some are reacting in the positive.
The Guardian's Damon Wise, for instance, gave it mostly high marks (which is noteworthy given that it comes from across the pond where I imagine scrutiny would be harsher). "Roland Emmerich's meticulously crafted and often well-acted exposé of the 'real' William Shakespeare is shocking only in that it is rather good," he writes. "[B]eneath the CG and bombast there is a very enjoyable film. Emmerich vividly portrays Elizabethan audiences and their visceral appreciation of the plays put before them."
In the theatre section, though, Wise's colleague Paul Edmonson took extreme aim at the authorship question in advance of the film's festival bow.
The Hollywood Reporter's Kirk Honeycutt called the film "glorious fun" and hailed it as "easily the director Roland Emmerich's best film. Instead of blowing up the world or engaging in other sorts of mass destruction, he actually steers a coherent path through a complex bit of Tudor history while establishing a highly credible atmosphere of paranoia and intrigue. His British actors deliver their usual reliable performances while designers and digital environmentalist stunningly re-create Elizabethan London right down to the tiniest detail."
On the negative side, Vulture's Logan Hill Tweeted that the film "is no disaster (movie) but he's no Shakespeare either." How…witty. He also called the film "convoluted"
Screen Daily's Mike Goodrich writes that the film "emerges as a strangely ponderous exercise lacking in the humour and intrigue which might have made it sparkle" and curiously adds that "there is just not enough cheesy melodrama to make it pop." The gist of his review is that Emmerich shot himself in the foot by being sincere with his "labor of love." He does, however, offer high marks for the film's design elements.
In a mostly mixed review, Variety's Robert Koehler spotlights actor Rhys Ifans's "command of his scenes" and remarks that "it is noteworthy that action specialist Emmerich has clearly decided to change course here from anything he's previously made…'Anonymous' surprises with how classical, staid and traditional Emmerich's mise-en-scene is, never straying from tried-and-true costumer standards."
He nevertheless found that the film "strains under the constant switches in time signature, which are sometimes dramatically effective and revealing of character, and other times overworked and fussy." I find the structure of the film to be something that will no doubt be unsettling upon first viewing, but once you know what's going on, it doesn't really grate.
Then again, I saw the film a week or two ago and had time to let it marinate, while a lot of press out of Toronto will be hurrying back to jot their surely jumbled instant thoughts down for publication. Nature of the beast.
I'm kind of struggling to locate many more notices. The guy from Boise Weekly gave it a thumbs up, so there's that.
I am finding, though, that a number of people unfortunately want to get bogged down in the Oxfordian theory itself here, deeming it "rubbish" or seeking to make it clear in their reviews (of an obvious piece of fiction, mind) that these notions have been debunked — even if it is the most widely-accepted theory amongst anti-Stratfordians. I'm also noting a lot of (expected) confusion about the narrative itself and John Orloff's labyrinthine structure on the page. Hopefully that will all settle for some in the film's post-fest future.
"Anonymous" is set for release nationwide on October 28. Meanwhile, Toronto moves forward as "The Descendants" screens today. We'll see if it can keep its Telluride headwind going strong.
[Photo: Columbia Pictures]