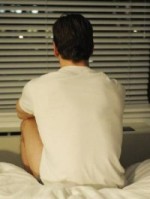 This year's Competition strand of the Venice Film comprised 23 films — a large-ish number by major festival standards, and yet it still feels remarkably thin.
Admittedly, I'm viewing the field with a slight eyepatch on, having only seen 17 of the 23 films. Yet compared to last year's lineup — where the successes ranged from higher-profile American auteur works like "Black Swan" and "Meek's Cutoff" to more rarefied critical hits like "Silent Souls" and "Post Mortem," with several heavily discussed possibilities in between — it feels this year like the Lido conversation has centered on the same small handful of titles for the past week.
Last year, Sofia Coppola's "Somewhere" was something of a shock Golden Lion winner; this year, anything that extensively discussed would be in the thick of consideration. As I wrote earlier, the extreme front-loading of the schedule, combined with the lack of breakout critical sleepers in the festival's quiet second week, has made for a rather static buzz wave.
(Thoughts on this year's contenders, and my own list of predictions and preferences, after the jump.)
After an opening which seemed to keep multiple possibilities in play — mainly due to the muted reception for big-name hopefuls like "Carnage" and "A Dangerous Method" — consensus seemed to settle quickly in the mid-section around such titles as "Shame," "Alps" and "Tinker, Tailor, Soldier, Spy" and hasn't really moved on since, bar a few pockets of extreme enthusiasm for Aleksandr Sokurov's divisive "Faust."
Of course, this is speaking entirely from the perspective of critics — always a moot consideration when trying to gauge the tastes of the film industry folk who make up the jury, as recent Venice outcomes have shown. "Somewhere," the Hollywood ennui of which may well have resonated more with Quentin Tarantino's jury than the journalists reviewing it, wasn't a particular darling of the critics this time last year; perhaps even less so was 2009's swiftly-forgotten champ "Lebanon," which vexed the critical collective huddling around "Lourdes" and "White Material." Equally, trying to pick from the perspective of a certain year's jury president is equally hazardous, given how ardently many filmmakers admire work so far removed from their own.
With that in mind, it's a harmless guessing game, so guess we shall. It's tempting to speculate this year's rather impressive jury — headed by former Golden Lion winner Darren Aronofsky, filled out with such names as Todd Haynes, André Téchiné and all-purpose artso David Byrne — might have something of a formalist bent, which would appear to discriminate against this year's unadventurous quartet of stage adaptations ("Carnage," "Method," "The Ides of March" and "Killer Joe," none of which look like huge threats in a festival context, however lofty the names attached).
The cold, hard risks of "Alps" (or even polarizing Japanese entry "Himizu," which I regret I haven't seen) seem a better bet in this context, and would chime in nicely with Venice's unwritten objective to honor slightly fresher entrants to the auteur canon than the old-school gentleman's club that is Cannes. That clause would apply to any of the three breakout British films of the festival, which played on consecutive days and have made salvaged UK pride after a dire Cannes showing.
For a day or two after seeing it, I had my money on Andrea Arnold's "Wuthering Heights," the kind of prickly, not-wholly-embraced prestige project festival juries often feel they can assist; it would also follow in the festival's noble tradition of handing its top prize to films previously turned down by Cannes (see "Vera Drake" and "Brokeback Mountain"). But I hear credible, if not airtight, rumors that certain jury members didn't warm to Arnold's singular vision. On the other end of the spectrum, I suspect the jury will think Tomas Alfredson's immaculate "Tinker, Tailor, Soldier, Spy" too conventional, too star-kissed for festival gold. It's arguably the film that came out of Venice with the most awards-season wind in its sails; as with "Black Swan" last year, they might not feel it needs their help.
Which brings me to Steve McQueen's "Shame," which sits perfectly in the middle for jury purposes: it's challenging but not clinical, has name appeal but isn't mainstream, and is critically adopted but not yet studio-owned. McQueen is a rising talent they can feel reasonably prescient honoring, but is preceded by enough of a reputation (and a widely admired first film) that his name won't look dwarfed by the award. It ticks the boxes almost too efficiently — and would certainly be a deserving winner, which in itself gives my cynical heart cause for doubt — but in this most foolhardy of sports, I see little reason to bet against it.
If McQueen's film does take the top prize, however, that muddies the waters somewhat for widely agreed-upon Best Actor frontrunner Michael Fassbender — whose lead performance in fellow Competition entry "A Dangerous Method," while less impressive, nonetheless adds weight to his cause. (Last year's winner in the category, Vincent Gallo, was also a double-dipper.)
Venice directors, however, famously discourage juries from bestowing both the Golden Lion and an acting prize on the same film. 2004's jury managed to bend the rules in 2004 for "Vera Drake," but it's this condition that denied Mickey Rourke a prize when "The Wrestler" took the gold three years ago. Given that Aronofsky himself might still be smarting over that one, I'm guessing he'd be more likely than most to fight for an exception. If he doesn't, though, look for Gary Oldman or even Matthew McConaughey to spring a surprise. (Venice juries have been sympathetic in the past to undervalued beefcake — ask Ben Affleck and Brad Pitt.)
Best Actress is a far leaner race — indeed, only one Competition entry (Ann Hui's politely received "A Simple Life," a generous showcase for long-dormant Chinese veteran Deannie Yip) even has a headlining female role. That's not to say the jury might not look kindly upon ensemble players like Jodie Foster, Selma Blair ("Dark Horse"), the much-derided Keira Knightley or even "Killer Joe" firecracker Juno Temple. As for my own favorite in the field, I think there's only so much the "Shame" cup can runneth over.
With that, here are my best guesses and personal wishlist — made with the caveat that I've been dead wrong the last two years, and ignoring my sneaking suspicion that "Faust" will sneak in there just to infuriate me.
WILL WIN
Golden Lion: "Shame," Steve McQueen
Silver Lion (Best Director): "Alps," Yorgos Lanthimos
Grand Jury Prize: "Faust," Aleksandr Sokurov
Best Actor: Michael Fassbender, "Shame"
Best Actress: Deannie Yip, "A Simple Life"
Best Screenplay: Eran Kolirin, "The Exchange"
Outstanding Technical Contribution: Robbie Ryan, "Wuthering Heights"
Best Young Actor: Juno Temple, "Killer Joe"
SHOULD WIN
Golden Lion: "Alps," Yorgos Lanthimos
Silver Lion (Best Director): "Wuthering Heights," Andrea Arnold
Grand Jury Prize: "Shame," Steve McQueen
Best Actor: Christoph Waltz, "Carnage"
Best Actress: Carey Mulligan, "Shame"
Best Screenplay: Yorgos Lanthimos, "Alps"
Outstanding Technical Contribution: Robbie Ryan, "Wuthering Heights"
Best Young Actor: Juno Temple, "Killer Joe"
[Photo: Film4]