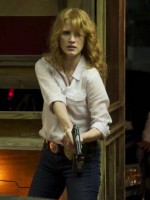 After a ten-day, 23-film Venice Competition that started slowly but respectably, hit a healthy stride midway through and began wheezing with exhaustion in its closing stages, things have finally ground to a permanent halt with "Texas Killing Fields" (**), the sophomore feature from Ami Canaan Mann — daughter of Michael,  who predictably takes a producer credit here. Mann fille arrived on the Lido a mostly unknown quantity — her debut feature dropped 10 years ago, and appears to have been by precisely nobody in that time — and I'd love to say she proved to be something of a secret weapon up festival director Marco Mueller's sleeve.
Alas, the only weapons brandished by this color-by-numbers tumbleweed policier are those belonging to the dutifully scowling small-town cops played by Sam Worthington, Jeffrey Dean Morgan and one of Jessica Chastain's recently minted clones — the ones to whom she now hands the second-string scripts that don't quite merit her personal attention.
They're all on the tail of a serial killer whose victims' bodies keep surfacing in a local swamp the Texan villagers have affectionately nicknamed The Killing Fields — where the body count is slightly lower than its Khmer Rouge namesake, but the locale is considerably more rancid. Or that could just be the fault of the formerly wondrous DP Stuart Dryburgh, here attempting to outdo his work on last year's "The Tempest" for inscrutable levels of murk.
Before you can say, "Where's Morgan Freeman when you need him?", hunters have become hunted, as the killer begins baiting them and preying on resident apple-cheeked tomboy Chloë Moretz for good measure. It is a measure of the muddled screenplay's quaintness that it repeatedly refers to her as "Little Annie"; use of the interconnecting "Orphan" is prevented only by the fact that she does have a heartless family of all-singing, all-drinking, all-prostituting hicks to go home to. So heartless are they that they fail to notice when she goes missing — but then neither do we, really, so let us not judge.
This routine procedural narrative is made unexpectedly difficult to follow by the frequently inaudible burial of dialogue in the sound mix, though the lines we do hear are often so clumpy — "Why doesn't God care about me?" whimpers Little Annie — that it may be to the film's benefit. An off-form Dickon Hinchliffe seems to have composed the score by resting his elbow on the 'redneck rumble' key of his Casio; his presence, together with that of Sheryl Lee in a supporting role, raises hopes that we may be in "Winter's Bone" territory here, but it's really only its lowered production values that prevents this from being a serviceable airline time-filler.
What it's doing in Competition at one of the world's foremost film festivals is a separate issue; "Because she's Michael Mann's daughter," a fellow critic answered wearily, though it bears mentioning that Mann himself hasn't had this privilege since "Thief" played Cannes 30 years ago. There's a neat lesson in there somewhere, but I'm not sure what it is.
Meanwhile, two days after its screening, Aleksandr Sokurov's "Faust" (**) remains the only real talking point of the festival's closing days, inspiring rapturous valentines and dismayed dissent in seemingly equal measure. A rumor is doing the Lido rounds that certain jury members bailed 20 minutes into the screening — I doubt that's true, and I suspect the film might be more prominently in the Golden Lion frame than I'd like it to be — but it's an amusing indication of how quickly a "difficult" film's reputation is forged.
Sokurov has never played a particularly easy game, mind: no filmmaker who describes his latest as the final installment of a "tetralogy of power," one that has thus far included revisionist biographies of Lenin, Hitler and Hirohito, could be accused of going after Nancy Meyers' crown. Yet it's not only "Faust"'s foray into fictional territory (it is indeed an interpretation of the oft-told Goethe legend, though an idiosyncratic one) that makes the new film a discontinuous closing chapter in this 12-year undertaking: Sokurov's filmmaking can veer wildly between (and even within) projects from the ascetic to the romantic, but he's never made a film quite as floridly chaotic as this one.
Fussily art-directed and lensed in the soft-focus, high-kitsch Flemish oil-painting aesthetic he often favors, it's ultimately the film's sheer barrage of verbiage that proves more claustrophobic. Sokurov surrounds the still-intact throughline of a learned man selling his soul for the woman he loves with a swirling entourage of garrulous supporting figures who do little to illuminate or recontextualize the story's core moral fixations; he appears to be openly challenging the audience to find the poetic and thematic truths (not to mention to oblique parallels between Faust in the political icons of his previous films) amid the film's Babel tower of talk.
It's a brazen auteur stance, but the accumulated visual and sonic clutter is more reductive than resonant. (Disorienting post-synching of dialogue certainly doesn't help, giving proceedings a flat, in-the-head effect.) With Sokurov opting to honor Goethe with a 19th century German milieu that doesn't skimp on the carnivalesque detailing — Hanna Schygulla pops up twirling and singing in a conical hat, just to clarify what universe you're in — the film too often feels like being trapped in an elevator with Terry Gilliam's id. Bruno Delbonnel's moss-hued lensing doesn't much aid penetrability: certain bleachily lit close-ups astonish, but many longer, digitally aided shots appear to have been rendered in AlgaeVision. I run hot and cold with Sokurov's directorial vision, which is partly what makes it exciting — but on this occasion, with material this dense, I wish it were a little more generously articulated.
After the fun-filled frolics of "Faust" — plus a handful of unspeakably grim, and often grimly unspeakable, sidebar entries that I won't go into here — critics piling into last night's screening of Johnnie To's "Life Without Principle" (*1/2) were all-but-tangibly hoping for a shot of trashier festival pleasure. The last major name in Competition, To's reputation for artfully violent Hong Kong shoot-'em-ups precedes him — and his new film's opening shot, of a promisingly maroon pool of blood in a corridor, boded well for more of the same.
What a good time, then, for To to subvert expectations by delivering a lifelessly earnest, multi-stranded moral drama centered on the global financial crisis: not an inappropriate or unwelcome lane-change per se, but vexing when the filmmaker it most recalls on a stylistic level is Paul Haggis, with a little less of the Canadian's famed subtlety and wry sense of humor. That teasing, bloody red herring at the beginning segues into lengthy first act underlining the ethical compromises made by pure-of-soul young banker Teresa (Denise Ho, apparently a Chinese pop sensation) as she lures an elderly client into dodgy investments — complete with more fact and figures and Hang Seng updates than I prefer to absorb even in my own financial dealings.
Relief arrives for the mathphobic after an hour, when a tangentially related sub-plot introduces some gangsters into the equation, though they too are more concerned with balancing their books than with delivering the electric action kick some might still be holding out for — if the film's uncharacteristically flat, low-contrast visuals hadn't already drained that hope; what blood is shed is shed in the name of responsible financial practice. And hurray for that, I suppose.
Finally, a word on the Surprise Film — as ever at Venice, a choice so nutritious as to be antithetical to traditional connotations of "surprise," but you sure can't say we called it. As surprises go, though, little-known Chinese director Cai Shangjun's second film, "People Mountain People Sea" (***), was a pleasant one. Defying its twee title to emerge as a wickedly nihilistic revenge melodrama, the film initially rivets with its straight-ahead narrative flow (this is a film that opens with a motorcyclist stopping for a piss, pulling out a knife and efficiently putting it to use) and watchful deep-focus lensing, before losing grip with a dramatically muddy finale.
If I'm reluctant to say more about the film, it's because of an only-at-Venice incident that broke the screening into two halves, a half-hour apart: 45 minutes in, an exodus of audience members became apparent in the front-left corner of vast Darsena auditorium, which seemed an excessive reaction even to the rape scene being projected on screen at the time. After much murmuring, the picture was swiftly cut dead and the house lights raised — was there a fire? A subtitle problem? Was a loose speaker threatening to cause a particularly unlucky death in Venice? We'll never know, since no festival official was courteous enough to stand up and explain the delay, but it took some time to fix — not, unfortunately, the only lull in the second week of Competition.
Later: My predictions and personal picks for tomorrow's festival awards.
[Photo: Anchor Bay Films]