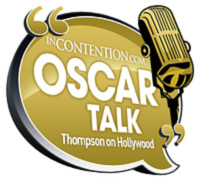 Welcome to Oscar Talk.
In case you're new to the site and/or the podcast, Oscar Talk is a weekly kudocast, your one-stop awards chat shop between yours truly and Anne Thompson of Thompson on Hollywood. The podcast is weekly, every Friday throughout the season, charting the ups and downs of contenders along the way. Plenty of things change en route to Oscar's stage and we're here to address it all as it unfolds.
Today we're back from the Telluride film fest, but Anne is up in Toronto and things are, well, kind of nuts. She's up against the wall trying to get to a screening so we don't get to dig in as much as we'd like. But we try. We really try. So, let's see what's on the docket today…
• Diving right into a Telluride recap, we talk about the big hit of the festival, "The Descendants," which comes away looking like a strong possibility for a number of nominations.
• Also playing very well at the festival was "The Artist," which is in the delicate position of elevating expectations while trying to keep word of mouth strong on the festival circuit.
• We also talk about "A Dangerous Method" (which I didn't like, but Anne loved), "Shame" (which I loved, Anne kind of liked — though I can't really tell) and "Albert Nobbs," which we both see as a good play for Glenn Close but, we also both think the film isn't fully there.
• Speaking of Glenn Close, we touch on the idea of lifetime achievement awards, which I argue more often go to lead actors than to lead actresses. (She disagrees strongly, for some reason, but I think I have Natalie Portman, Kate Winslet, Marion Cotillard, Hilary Swank, Halle Berry, Helen Hunt, etc., etc. on my side here.)
• With the news of Eddie Murphy taking the emcee gig at the Oscars this year, we briefly give our knee-jerk reaction to that. And finally — agree on something today!
• Finally, I must apologize that we weren't able to address reader questions due to Anne's time constraint. I'll save them for next week, but I did pose Guy's query regarding Toronto's position as THE festival for the Oscar conversation, since it seemed pertinent.
Have a listen to the new podcast below, with the trailer for "The Descendants" leading the way. If the file cuts off for you at any time, try the back-up download link at the bottom of this post. And as always, remember to subscribe to Oscar Talk via iTunes here.
[display_podcast]

Back-up download: Oscar Talk Episode 60