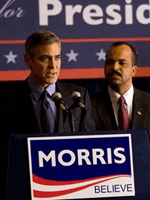 Guy has already covered George Clooney's  "The Ides of March" for us out of Venice. It's too bad I couldn't get into any pre-Toronto screenings (due to not attending the festival), since I was anticipating liking it more than Guy and it could have been nice counter-balance. But then again, maybe not.
I've been reading a lot of reviews and Tweets out of Toronto screenings yesterday from the less-than-enthused. "There isn't anything shockingly new in this political thriller," Kyle Smith of the New York Post asserted. "[I]t was pretty much all in 'Primary Colors' 15 years ago." His colleague, Lou Lumenick, Tweeted something similar (while nevertheless praising the cast).
Similarly, eFilmCritic's Erik Childress Tweeted that the film "is tremendously disappointing. No more than a watered down version of 'Primary Colors.'" It's beginning to sound like the film is going to be saddled by comparisons to that 1998 Mike Nichols effort (which was to Bill Clinton what "The Ides of March" is to Howard Dean). That film, by the way, only wound up with nominations for Best Supporting Actress (Kathy Bates) and Best Adapted Screenplay.
Variety's Justin Chang was equally harsh toward the film, while The Hollywood Reporter's Deborah Young seemed to be vacillating half-way through.
Even Jeff Wells's positive assessment (headlined "Does The Job") seemed incredibly measured. "[I]t's a high-end, thoroughly adult popcorn movie, and that's totally fine," he wrote, almost apologetically. "There's nothing to bitch about or put down here. Well, you can but why? To what end?"
Naturally, festival co-director Cameron Bailey saw it all a little differently. "Much more positive response than across the water," he Tweeted. I guess I have read this or that note about how the room seemed to be more accepting to the naïveté of the drama than European audiences.* And this morning I did stumble across Erik Kohn's semi-rave, which again invokes the Nichols film, calling it "a leaner, more outwardly aggressive version" of it.
Regardless, the lack of real passion for the film makes you wonder if Dave Karger was a bit generous by proclaiming it a "slam-dunk Best Picture nominee." Maybe at the end of the day, "The Ides of March" will be thankful for a field that allows for more than five nominees.
I'm just guessing here. I'd love to see and, you know, gauge for myself. Which I look forward to. Whenever that happens. I find myself wondering if a showing in Telluride, which would have likely been positively received (as it is from much of the general audience in Toronto), might have made for a better press reveal, since the vibe of the town is so intimate and kind of takes over the overall perspective. And with Clooney in town, it would have just made sense. Just thinking out loud.
I'll leave it with Guy's ultimate takeaway:
For a film that affects a jaded, it-was-ever-thus air about the reality of dirty politics (that title isn't exactly rich in ambiguity, either), the way it stares earnestly aghast at the characters' hypocrisies and double-crossings is itself naïve at best, and downright disingenuous at worst.
Then again, maybe lowered expectations is the way to go this year. For instance, I think the worst thing for perfectly fine films like "The Artist" and "The Descendants" is for them to be pegged as sliced bread-level triumphs. We have a long way to go, and that kind of thing can unexpectedly fester.
*A friend over the weekend quipped that, when foreign audiences get a load of an American piece that essentially says, "Wow, corruption in politics," the general response is, "How cute."
[Photo: Columbia Pictures]