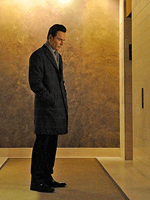 I would say "Toldja!," but I think that's trademarked elsewhere. Nevertheless, as indicated here a few times, Fox Searchlight Pictures was pretty serious about "Shame" after the film bowed at Venice and Telluride on the same day over the weekend. It's set to screen Sunday in Toronto, but ahead of that, the dependent has bravely swooped in and picked the title up. The press release, in part:
Fox Searchlight Pictures Presidents Nancy Utley and Stephen Gilula announced today that the company has acquired U. S. rights to the intimate and provocative drama SHAME…

"Fox Searchlight contacted us immediately after the screening in Telluride to tell us how much they loved the film. Their approach to marketing and distributing the film this year was incredibly detailed and impressive. We are excited to be working with them on a film that is sparking debate and a strong emotional reaction from audiences," said Canning and Sherman.

"This is a brave statement and an important move by Fox Searchlight.   I am very happy they came on board to release Shame in the U.S.  It's great to be working with a team that is so passionate about cinema," said McQueen.
Deadline broke the news exclusively in advance of the official announcement.
As I noted in Tuesday's Off the Carpet column, just before the bidding war bubbled to the surface online the next night, night, when the bidding war bubbled to the surface on the net, "Combined with pick-ups for very non-Searchlight (as of late) titles "The Tree of Life" (which, by the way, did indeed screen for the studio at last year's Telluride fest, though the deal was pretty much on the way to signatures) and "Martha Marcy May Marlene," I think nabbing Steve McQueen's film would be a great statement that the dependent isn't merely in the business of "indie but accessible."
So with that in mind, here's my gold clap. Bravo, kids.
I expect there will be an awards campaign, particularly for star Michael Fassbender. While it'll be an uphill climb to curry favor with the Academy on a film like this, it nevertheless will be a smart move to drum up buzz around it and potentially drive box office as a result. And, as I said to Anne in yesterday's podcast, it's wise to be in business with a guy like Steve McQueen, an undeniable talent.
That awards journey might begin with Venice kudos this weekend. Guy has already offered his personal picks and predictions for that, and he expects a decent showing for the film. We'll see how it goes. It's worth noting that the last substantial Fox Searchlight pick-up out of Toronto, "The Wrestler," managed to win the Golden Lion before heading across the pond. Will "Shame" pull off a similar feat? We'll see.
Guy's thoughts on the film out of Venice here, mine out of Telluride here.
Here's the Venice pres conference and a clip from the film:
[Photo: Fox Searchlight Pictures]