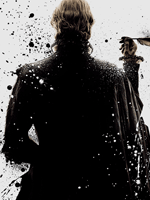 I have to say, quite unexpectedly, I really liked Roland Emmerich's "Anonymous." I think it's his best work yet. Having busied himself with matters of the apocalypse for the better part of two decades in films like "Independence Day," "The Day After Tomorrow" and "2012," it's fair to say few would expect him to have something toned-down in him. So perhaps on one hand, lowered expectations play a hand here (despite the fact that, quite frankly, I very much enjoy Emmerich's singular brand of entertainment).
Regardless, the film is an elaborate piece of work (from an engaging screenplay by John Orloff), dense but rewarding, smart but entertaining, and Emmerich pulls it off without a hitch. In fact, while the effort is surely stylized, Emmerich gets out of his own way here, leaving no real trace of his typical leanings — anonymous, you might call the work. That's impressive for a guy who has made his living basically just destroying the world on celluloid.
Here the world is much more confined: Elizabethan England, London at the height of the English Renaissance and on the brink of the Age of Enlightenment. But the intrigue is nevertheless thick, as the story proposes the work of William Shakespeare to be both an elaborate game of politics and a simple human desire to express personal art: though none of it from the bard we know.
The film presents Edward de Vere, the 17th Earl of Oxford, as the true author of Shakespeare's works. It is a theory first put forth by J. Thomas Looney in the 1920 book "Shakespeare Identified" and it is the most prominent theory among those who believe "we've all been played" by history, as the film's tagline asserts. Subscribers call themselves "Oxfordians," and indeed, a handful are present in the film (including heralded actor Derek Jacobi, who wanted to be involved, yielding a small part in a late-addition framing device.) The Wikipedia entry on all of this is a great place to start.
But out of that idea, Orloff has spun a fascinating yarn, itself of near Shakespearean tragedy. It's a complex interplay of relationships and motives, incest and politics that is ultimately about the power of the written word to change hearts and minds, the enduring nature of art and, above all, the integrity of an artist.
The complexities of the narrative (which never slows down to let you catch up with its Earls and Duchesses and various titles and figures of nobility) could leave some confused. Indeed, I'm already hearing this is the case for many, but I was able to let the film take me along even when I was feeling a bit behind the curve. Everything ultimately comes together in a very dramatic way, and right in the center of things is a fantastic performance worthy, I think, of awards attention.
Despite a few detours into commercial cinema here and there, actor Rhys Ifans has largely made his career in the world of independent cinema. Casting him in the lead role of Edward de Vere was frankly a bit brave on Emmerich's part, but it's safe to say after this and another Sony production — next year's "The Amazing Spider-Man" — Ifans will be a lot more familiar to general audiences. Here he is nearly unrecognizable, giving a stunning performance, textured, electrifying, wonderfully emotive, fully present. Even though he's an actor we know has talent, I was nevertheless quite impressed by what he did in this film.
Adding to her supporting actress hopes for "Coriolanus" is Vanessa Redgrave, given a little to work with as Queen Elizabeth I, but riding it for all it's worth. She gets a handful of key scenes that remind you that the great performers make a role, however famous, their own.
I was also particularly delighted by Rafe Spall, who gets a comic relief role in the form of William Shakespeare. Shakespeare is portrayed here as a nearly illiterate buffoon actor, opportunistic when he sees his chance, ruthlessly ambitious despite lacking the talent to achieve anything of note on his own.
Sebastian Armesto gets plenty to work with as poet and playwright Ben Johnson, de Vere's only confidante in the truth, while David Thewlis is also worth noting as the antagonistic William Cecil of the Queen's advisory. But Ifans is the story here, and he deserves an awards push.
The film, by the way, is absolutely gorgeous. I was talking with an American Cinematographer journalist at Telluride who noted that people will likely look back to "Anonymous" as the tipping point of what you can really do with digital in a next-level kind of way. It's beautiful work, capturing equally extravagant and noteworthy costume and production design.
I don't know if the complexity of the plot (and the length of the film, which admittedly steps too far, even if I was thoroughly enjoying myself) will hold the film back, but I think there's a lot to work with for Academy types. It is, after all, a story of showmanship and art, very identifiable, and frankly more moving on that front than the slight "The Artist," I found (no, seriously). All below-the-line elements deserve the campaign they'll get, but I can only hope the film gets a fair shake across the board.
But, frankly, I expect to be somewhat alone in my championing here. Some will probably see it as an over-the-top display, "The Tudors" as done by Roland Emmerich, with many likely gunning for the director just because he's Roland Emmerich. But I don't really care. I very much liked what this film was saying deep down and connected with it as such.
"Anonymous" screens in Toronto today. We'll see what the critical masses have to say soon enough.
[Photo: Columbia Pictures]