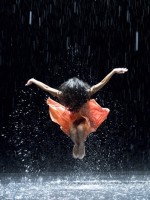 I predicted on Twitter a couple of weeks ago that Wim Wenders' 3D dance film "Pina" would be selected as Germany's submission for the Best Foreign Language Film Oscar, and that it could well be a surprise shortlist entry if the executive committee gives it a leg up. The first half of that forecast panned out today, and I'm sticking by the second — though Kris, I should add, thinks I'm off my rocker.
It's a riskily unconventional choice for Germany, which tends to play this game pretty safe — and has six nominations in the last nine years to show for it. "Waltz With Bashir" may have recently opened the door for documentary (or at least hybrid) filmmaking to get recognition in this category, but that was still a more narrative film than "Pina," the bulk of which amounts to filmed performance art. It's also the first 3D submission that I can recall.
There's no precedent for such a nomination, yet that novelty is exactly why I think the branch's executive committee — which has made a concerted effort to bring a more adventurous streak to a frequently fusty category — might stand up for it.
Wenders' veteran status is an extra point in its favor: his films have twice before been entered in the foreign-language race (most recently, "Wings of Desire" in 1987); his only Oscar nomination to date, as with his compatriot Werner Herzog, has come in the Best Documentary Feature category. (Could "Pina" bring him a second nod in that race? I somehow doubt it.)
I could be completely off here, but either way, it's an exciting wild card to have in the mix. Kris, you might remember, was none too taken with "Pina" at Telluride last week; I was considerably more impressed at the Berlinale in February.
Meanwhile, Sweden has joined the fray with "Beyond," the directorial debut of actress Pernilla August. The film, a story of a young woman growing up in an abusive home in the 1970s, stars Noomi Rapace (the original Lisbeth Salander, in case you'd forgotten) and premiered at last year's Venice Film Festival, where it was warmly reviewed and won the Critics' Week prize.
Fast-forward a year, and Taiwan's recently announced submission, "Warriors of the Rainbow: Seediq Bale," premiered in the Venice competition last week. Reviews for the film, a large-scale historical drama concerning the Taiwanese rebellion against Japanese rule in the 1930s, have been rather spotty. Despite being at Venice both this year and last, I haven't seen either film. There's a lesson to be learned there somewhere, but I'm not sure what it is.
Finally, the Japanese have submitted a film I'm having a tough time finding any information about, Kaneto Shindo's "Postcard" — so do enlighten us if you know anything.
Keep track of the growing submissions list with our dedicated page here.
[Photo: Sundance Selects]