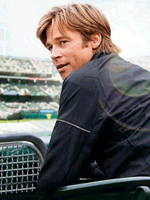 Okay, not reviews, plural. Not yet. The only reaction I'm finding for Bennett Miller's "Moneyball" (which screened here in LA a few times despite the usual studio falsehood — "we don't have any screenings set right now" — typical) is Jeff Wells's take at Hollywood Elsewhere. And it's a glowing assessment, to say the least. He calls the film a "triumph" and thinks it's definitely a nominee for Best Picture, Best Director, Best Actor (Brad Pitt) and Best Adapted Screenplay. He doesn't mention anything about Wally Pfister's cinematography or Christopher Tellefsen's editing, unfortunately.
But regardless, we'll save our sure-thing card until we see it — Jeff flies off the Oscar handle on dubious players too frequently to trust this just yet. And he kind of sends up a red flag when he alludes to the film not being a rousing sort of thing (which, obviously, isn't in and of itself a drawback — I'm just playing Jeff's own game of parsing words to death). I'm nevertheless hopeful and I've been looking forward to this one for a while.
Anyway, Jeff writes:
I'm not into baseball that much but I used to be, and Moneyball re-awakened my affection for the game precisely because it's a little nerdy — my first text was that "it's baseball nerd heaven" — and kinda mystical and because it doesn't traffic in the standard sports-movie inspirational uplift crap…and yet it does do that in a nicely grown-up way…

What it's really about is the ecstatic, pure-gravy pleasure of watching a first-rate, award-quality fall movie that's made for you and me and everyone out there who hated Stupid Crazy Love [ahem, that's Crazy, Stupid, Love], plus the holy-shit excitement of a serious, Oscar-level Brad Pitt performance. Seriously. Pitt has never had a better-written part, or such a spirited, multi-layered and vulnerable character to dig into, or given a more primal movie-star performance in his life.
It's probably best to let a few other perspectives trickle in before getting too serious here. But Wells does go on to mention Jonah Hill's performance, calling it "perfect." I went out on a limb with a hunch that Hill could be in the hunt for a Best Supporting Actor nod, just based on some things I was hearing. I'll be curious to see if he's got the chops after all. I also had Pitt in there for a bit. Maybe I should re-insert him in that flimsy fifth spot.
UPDATE: A few more reactions…
Drew McWeeney gave it a glowing review over at Motion/Captured, most notably stating that Jonah Hill gives a "career-changing performance." He writes:
Jonah Hill may have just changed the course of the rest of his career with the work he does here. He is frequently funny in the film, but it never feels like he's reaching for the joke. This is honest, well-observed work, and he has to play a smart guy who is put to the test, a theoretician given a chance to see his theory in practice.
Kirk Honeycutt at The Hollywood Reporter, meanwhile, writes an incredibly vague assessment. Here's the only pull-quote I could find with much meat on its bones:
Director Bennett Miller, who coaxed a satisfying movie out of unlikely material with Capote, puts Moneyball through a workman-like pace. If the movie fails to achieve the knockout punch of Social Network, this may be because another film altogether was originally imagined. Steven Soderbergh was set to direct Zaillian's script when Columbia pulled the plug due to concerns with the budget and changes in the original screenplay. One can only wonder what that version would look like as Soderbergh, like Beane, is not one to do things according to old formulas.
Across the pond, though, The Guardian's Catherine Shoard finds the film to be too melodramatic, asserting:
While The Social Network scaled up the computer programme at its centre to say wider things about humanity (that electronic connectivity may not ultimately alleviate loneliness), Moneyball fails to deliver any thesis on whether or not people can be condensed to data. It's a topic you'd imagine might have tickled the scriptwriter – but compared to Sorkin's earlier efforts, this has all the subtle touch of a baseball mitt.
But even with the thumbs down, she notes that Hill gives "a surprisingly affecting performance." So I'm beginning to wonder if he's in the hunt for a Best Supporting Actor nod after all.
[Photo: Columbia Pictures]