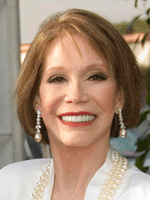 The press release, in part:
Renowned actress, producer and humanitarian Mary Tyler Moore will receive Screen Actors Guild (SAG)'s most prestigious accolade – the Screen Actors Guild Life Achievement Award. Moore created a new paradigm for female leads in television, won top honors for her courageous performances in film, television and on stage, produced some of the most lauded television programs of all time, and for thirty years, has served as a tireless advocate giving hope to all those afflicted with Type 1 diabetes.

In making today's announcement, Screen Actors Guild National President Ken Howard said, "Mary Tyler Moore won our hearts as Laura Petrie and Mary Richards, our respect as her production company became synonymous with quality television, our awe as she tackled difficult subject matter in film and on Broadway, and our admiration she turned her public recognition into a catalyst to draw attention to critical and deeply personal health and social issues. She truly embodies the spirit behind SAG's Life Achievement Award, and we are honored to proclaim her as its 48th recipient."
The Screen Actors Guild Awards will air on TNT and TBS Sunday, January 29.
[Photo: Screen Actors Guild]