Venice Film Festival
British filmmaker Andrea Arnold would have been 16 years old when Kate Bush topped the UK pop charts with "Wuthering Heights," a swirling art-rock ballad that stripped the Emily Brontë novel for which it is named down to a few key lines and narrative details, but evoked its grand-scale tragic romance in more intuitive terms. In its wake, a new generation of schoolgirls clutched Brontë's words tightly to their chests.
We can only speculate how Arnold came to the novel, but her bold, forbidding and impressively reconceptualized "Wuthering Heights" appears to take the Kate Bush course of adaptation: gutted of most of its words, with some choice ones added (I haven't read it in some time, but I'm pretty sure Brontë didn't write the line, "Fuck you all, cunts"), the novel serves as a theoretical starting point for an artwork that redraws the story with the most immediate sensory tools of its medium. This is a "Wuthering Heights" of weather and flesh and grass and locked eyes, one that has the simple common sense and staggering cinematic wherewithal to know that great adaptations don't beat great writers at their own game; they play a new game entirely.
Whether Arnold, heretofore a ferocious stylist of urban realism on the record as saying this is the only novel she'd ever consider adapting, has won here will depend on your taste for austere cinema of the physical; since yesterday's premiere, that laziest and least evocative of jabs, "pretentious," has been heard a fair bit on the Lido in response to the film, when it actually couldn't be more brazenly self-possessed. Most should agree, however, that a project that initially threatened its director's defection to middlebrow prestige after the spiky wonders of 2009's "Fish Tank" has turned out to be her most extreme auteurist work yet.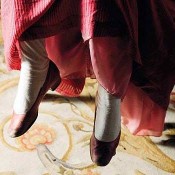 There's an elemental construction and discomfiting, hand-in-face tightness at play in Arnold and her ingenious DP Robbie Ryan's image system that recalls nothing so much as the dusky fevers of French experimentalist Philippe Grandrieux, its claustrophobia amplified by their decision, once more, to shoot in the boxy Academy ratio — though the clean, constant, near-tangible presence of a slicing Yorkshire wind at least provides some breathing room. Either way, the four-letter-strewn final product makes the fresh period innovations of Cary Fukunaga's  recent, lovely adaptation of Brontë soeur's "Jane Eyre" look as romantically plush as Douglas Sirk by comparison.
Would that more filmmakers this gifted dared to handle sanctified source material this roughly. For amid its severe stylization, anachronistic dialogue (the most striking of which, even more than sundry "fucks" and "niggers," is the preponderance of the humble "okay") and questionable presence of Mumford & Sons on the soundtrack (I was stumping for Andrew Bird myself), Arnold's "Wuthering Heights" reveals a truth about the novel that few previous adaptations, including William Wyler's stormily swoony 1939 classic, have done: specifically, that it's not abundantly romantic at all. Chances are you know the tale of Catherine Earnshaw's consuming, class-obstructed affair with the near-feral Heathcliff, her adopted gypsy brother, even if you've never read or seen it — but it takes an acquaintance with the source to see what a thistly, unkind story of cruel pride, denial and, yes, damaging passion it is.
Like most previous screen versions, Arnold and co-writer Olivia Hetreed ("Girl With a Pearl Earring") have taken on only the irresistibly full arc of the novel's first half, but have zeroed in more emphatically on the class tensions and familial cracks that both enable and cripple Heathcliff and Catherine's relationship. Arnold's simplest and most successful amendment is the introduction of a black Heathcliff (played at different ages by Solomon Glave and James Howson), a stroke that places the social landscape of Brontë's story in starker relief, and adds an extra layer of rancour to the abuse the character endures at the hands of Catherine's seethingly inarticulate brother Hindley (Lee Shaw).
If the new film occasionally wants for depth of feeling, the fault may not lie with the aggressively decluttered adaptation but with the alternately affecting and affected young actors that populate it. Three of the four actors playing the central couple are screen  novices, and while Arnold's trust in inexperience paid off handsomely in "Fish Tank," the results here are spottier: there's a naïve emotional sincerity to the performances in early beats, but as the tragedy escalates, only the more practiced Kaya Scodelario (a veteran of TV's "Skins") really hits her marks as the older, pleasingly chilly Cathy. The ensemble might be flattered by a more assertive edit, as indeed could the film as a whole: certain turns of mood and character (notably the aforementioned hostility between Heathcliff and Hindley) feel over-inscribed across multiple scenes.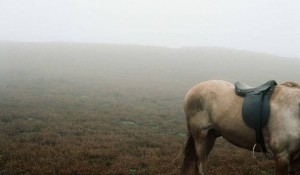 At the risk of seeming an over-apologist, however, lapses in performance and pacing can't help but feel like secondary concerns in the face of visual storytelling so overwhelmingly tactile. Rather than a jagged collage of (extraordinarily) pretty images, Arnold and Ryan have collated an intricately visceral pictorial conversation of temporal and seasonal details — blizzards of plucked goose feathers, makeshift mattresses of heather, bloodied garlands of hunted hares, or the white spring light squinting through an apple tree — that not only reinterpret the verbal atmospherics of Brontë's prose, but make an explicitly earthy beast of Heathcliff and Cathy's love, a bond that has never seemed comfortably contained in man-made walls.
With restlessly whistling air filling in for a score, it winds up marking the year's second substantial study of the tension between nature and grace (and with a director and cinematographer no less psychically wed than the first). Bound to provoke evenly-armied arguments about the priorities and responsibilities of filmed literature, Arnold's imperfectly thrilling "Heights" makes the welcome point that the costume drama could stand to get out a little more.
[Images: Artificial Eye UK]