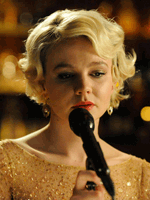 I first reported out of Telluride that Fox Searchlight was looking like a good possibility to pick up Steve McQueen's brilliant, stirring — and naughty — "Shame," and expanded my thoughts on that possibility in Tuesday's Off the Carpet column. Well, it looks like Deadline's Mike Fleming is hearing similar things, and not just that Searchlight is in the mix, but that the film is kicking up a bidding war ahead of its Toronto bow. He writes:
This year's festival hasn't started and already there are fireworks. Deadline broke news yesterday that Harvey Weinstein would start a VOD business, making the acquisitions market for fringe films more competitive; and last night, I heard that a bidding battle had already broken out for the Steve McQueen-directed Shame, which should be sold by the time it screens Sunday. Fox Searchlight is the favorite, Sony Pictures Classics is in the mix and I've heard that The Weinstein Company is hovering.
He goes on to add that all potential buyers are interested in releasing the film for Oscar consideration this year, which is brazen. I don't see this sure-to-be NC-17 film lighting up Academy types, and I would think those sniffing around it would be smart enough to see that. Not that I don't want it campaigned as such. The more who see it, the better, and potential awards (Indie Spirits would certainly be in the cards) would only broaden the audience.
Harvey Weinstein has been known to pick up films just to dump them and get them out of the way of his product, but I don't see "Shame" as much of a threat to his awards hopefuls. It could be a nice way to launch his new VOD shingle, which Fleming alludes to.
There are plenty of films still up for grabs at the fest. Fleming goes on to detail them and when they're expected to screen throughout the fest. Check out more at Deadline.
We'll be reporting on whatever coverage goes out from Toronto this season, just as we did last year. Fingers crossed something comes along to shake things up.
[Photo: See-Saw Films/Film4]