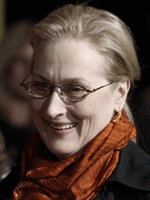 Last week Larry King said he had it on good authority that Meryl Streep would be honored by the John F. Kennedy Center for the Performing Arts. Today, it turns out he was right.
Streep will be feted alongside musicians Neil Diamond and Yo-Yo Ma, saxophonist Sonny Rollins and singer/actress Barbara Cook. The announcement is a great way to launch her into the awards season as she looks to be a good bet for Oscar recognition for her role as Margaret Thatcher in "The Iron Lady," especially seeing as Glenn Close is dominating that conversation this week with "Albert Nobbs" bowing in Telluride before moving on to Toronto.
The Kennedy Center Honors will take place on December 4, the week the National Board of Review really gets the awards circuit going and just under two weeks before the release of "The Iron Lady." But the won't be broadcast on CBS until December 27.
Over at The New York Times' Arts Beat blog, Ashley Southall has a statement from Streep:
I am deeply honored by this news, and wish my mother and father were alive to hear it!…All that education, allowance, tuition, voice lessons, summer jobs, scholarship application deadlines and loving care and discipline – all that they gave me, bore fruit in a way they never dreamed. I am so grateful!
"The Iron Lady" skipped the fall festival circuit, but I'm told it simply wasn't finished yet.
[Photo: vpqv.net]