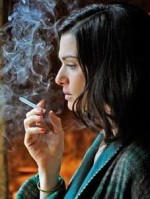 I'm not going to spend too much time on the London Film Festival lineup, which was announced in all its glory this morning — partly because I'm still at Venice and am experiencing disturbing festival double vision, and partly because I've already seen a number of its choicest selections.
As usual, festival director Sandra Hebron (in her final year steering the fest) and her team have done a stellar job of cherry-picking the hottest titles from Cannes ("The Artist," "We Need to Talk About Kevin," "Miss Bala"), Sundance ("Like Crazy," "Martha Marcy May Marlene"), Venice ("Alps," "Shame," "Wuthering Heights"), while bulking out the programme with exciting lesser-known British and international cinema titles — world premieres, a number of them.
204 films films will play over the course of 16 days, which, with so many inclusions already checked off my list, should afford me plenty of time to dig into more buried treasures from the lineup. As usual, I'll be keeping you abreast of my discoveries, as well as the handful of autumn prestige titles that I'll get my first look at there.
Rachel Weisz, meanwhile, seems to be the unofficial face of the fest, as she headlines both its opening and closing night selections. The former, Fernando Meirelles' "360," I discussed here. The latter, which was announced last week but I neglected to mention amid my Venice activities, is one of my most anticipated of the year: Terence Davies' "The Deep Blue Sea," the British master's first narrative film in a decade, and one I've heard a couple of people say features the best performance of Weisz's career. It premieres at Toronto soon, though I hear only scheduling conflicts kept it out of the Venice competition lineup. Alas.
You can check out the full selection here; below, my own rather random most-anticipated list from the lineup.
"Americano," Mathieu Demy
"Breathing," Karl Markovics
"A Cat in Paris," Alain Gagnol and Jean-Loup Felicioli
"Crazy Horse," Frederick Wiseman (missed at Venice)
"The Deep Blue Sea," Terrence Davies
"Oslo, 31 August," Joachim Trier
"Rampart," Oren Moverman
"Sarah Palin: You Betcha!," Nick Broomfield and Joan Churchill
"The Screen Illusion," Mathieu Amalric
"Snowtown," Justin Kurzel
[Photo: Film4]