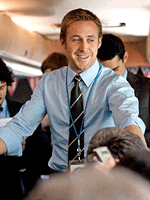 I had asked Guy for a quick one-off on each of the Oscar-contending films he's seen at Venice so far. I was going to use it for today's Off the Carpet column, but I published before he got around to it. Nevertheless, it's worth boiling things down (from his perspective), so here's what he's thinking (with the film titles linked to his Venice reviews):
"The Ides of March"
Possible Best Picture and Director nominee (but only if US critics are more enthusiastic than the ones at Venice and the film does okay commercially). If it gets those, possible supporting nods for Philip Seymour Hoffman and Evan Rachel Wood. Film Editing is the only tech possibility.
"Tinker, Tailor, Soldier, Spy"
On the one hand, it's possibly too low-key for big Oscar categories, but I'm thinking the Brit vote could make a big difference here. It should do very well with the BAFTAs. Best Adapted Screenplay is a strong possibility, as is Gary Oldman — if not the slam-dunk we might have thought. I suspect the supporting male ensemble is too large (and too uniformly high-quality) for any individual to break through — kind of an "L.A. Confidential" situation. Watch for Albert Iglesias' score and the production design.
"Wuthering Heights"
Not a chance, though in a just world, it would win the Best Cinematography Oscar walking away.
"A Dangerous Method"
Well, you know. I'm increasingly thinking it's just going to fade away.
"Shame"
I'm sure you agree this isn't going to happen (sadly).
"Carnage"
I just think this is too bitter and brittle for Academy voters to embrace. Perhaps Christoph Waltz is in the Supporting Actor frame, but he's a dark horse.
"W.E."
Best Costume Design nod, here we come.
[Photo: Columbia Pictures]