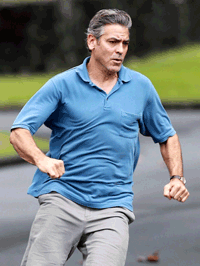 This morning's interview with "Into the Abyss" director Werner Herzog represented my last Telluride communique (though I guess I was already home) from this year's 38th annual festivities. Five days, 18 posts, nine movies and three interviews. It was a dense sprint to start the race, and now, with Venice still in-progress and Toronto set to raise the curtain Thursday, we find ourselves in the thick of the season's early breaths.
Up in the Colorado mountains, the biggest takeaway was Alexander Payne's "The Descendants." Payne was highly visible throughout the festival, sometimes taking in six or seven movies a day, fielding compliments for his work and settling in to what has apparently become his favorite festival experience.
His film first dropped on Thursday afternoon as a special invitation screening for press and patrons. That's where most of the early word stemmed from as critics and bloggers (yours truly among them) raced back to offer up our thoughts on the director's first film in seven years. But that's not the story of that film's life at Telluride. The story was its discovery for the rest of the attendees over the next four days.
From my bed & breakfast room I could often hear people walking on the street talking, discussing what they'd seen, what they wanted to see, etc. I overheard one conversation as I was working that made me smile. A gentleman told his friend, "Try not to see 'The Descendants' too early. It will ruin the rest of the festival for you. Nothing else is better."
Indeed, the film seemed to be the one that set the festival abuzz more than any other. Much of that is understandably owed to the presence of George Clooney, who I'm told ended up doing way more than Fox Searchlight publicity anticipated: attending the Patron Brunch, spending three solid hours at the studio's Saturday night party, etc. It's almost as if he could feel it, smelling it in the water that the film was taking off with everyone in town. Meanwhile, co-star Shailene Woodley also turned up, and she hit the ground running. Expect to hear more from and about her over the next few weeks.
But it wasn't all about Clooney and his film. The other big winner was, no question, Michel Hazanavicus's "The Artist," which continued its festival stay and was probably the second-most buzzed about film at Telluride. People simply adore this one, and as we've been saying here for quite a while, it's poised to stay at the top of the awards conversation throughout the circuit.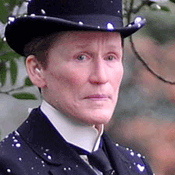 Glenn Close got a nice press bump heading into Toronto for her work in "Albert Nobbs," which was generously received by A.O. Scott at The New York Times (a sizeable feather in the film's cap). The rest of the early circuit will tell the tale on this one, but Roadside Attractions is feeling very optimistic.
Concurrently with Telluride, the Venice film fest was pushing ahead, showing some of the same films we got up north. "A Dangerous Method" was one of them, and it left plenty cold on the Lido before doing pretty much the same thing in Colorado. Sony Classics might try to play with a lead actress campaign for Keira Knightley, who chews the scenery in the early portions of the film, but my humble advice — especially since the "Carnage" quartet is said to be a four-lead campaign — is to keep her in supporting and hope she turns up there.
The film is a heady piece that isn't likely to gain much traction elsewhere (certainly not as a Best Picture candidate), and even though Viggo Mortensen is wonderful (yet contained) in his scenes, Knightley is the get here.
Speaking of "Carnage," Jodie Foster seems to have turned out the big winner on that front in Venice. If Sony Classics indeed sticks with Knightley in a lead campaign, the course could be clear for Foster, who has the studio very excited for a potential nomination.
"Shame" is still looking for a buyer after playing Venice and Telluride on the same day. Unfortunately none of the talent was on hand, opting instead for the world premiere in Italy, but by most accounts in Telluride, the film was a demanding, intense piece that didn't fully set the crowds alight. Then again, it's not that kind of piece, and I imagine most will still be thinking about it after a number of days have passed. My love for it is on the record. The film may turn up some studio interest in Toronto, but Fox Searchlight was sniffing around it at Telluride…
…which has me thinking. Combined with pick-ups for very non-Searchlight (as of late) titles "The Tree of Life" (which, by the way, did indeed screen for the studio at last year's Telluride fest, though the deal was pretty much on the way to signatures) and "Martha Marcy May Marlene," I think nabbing Steve McQueen's film would be a great statement that the dependent isn't merely in the business of "indie but accessible." But we'll see if that pans out or if IFC Films wants to stay in business with McQueen. Whoever picks it up, it would have to be a labor of love, because this will be an NC-17 that the director won't cut and Oscars are certainly out of the question.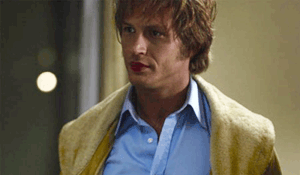 Sticking with Venice, Madonna's "W.E." crashed and burned with little but the costumes surviving. Sony's "The Ides of March" kicked things off as a certified Oscar horse before Telluride and Payne stole the Clooney buzz. And "Tinker, Tailor, Soldier, Spy" may have emerged as the thinking man's Best Picture play (while also potentially presenting the case for Tom Hardy to be a double nominee this year, while already solidifying what we assumed: Gary Oldman is a major Best Actor threat).
Also worth noting is Jessica Chastain's under-the-radar award at Venice that could be the beginnings of a stampede, should one film bubble up as THE film for her and her Oscar hopes. "The Help" winning its third-straight weekend at the box office sure did a lot to keep her conversation going, too. And the Best Foreign Language Film conversation continued on both festival fronts as films like "The Turin Horse," "In Darkness" (which world-premiered at Telluride), "A Separation," "Le Havre" and "The Kid with a Bike," among others, played to audiences.
Then, a day later, we have an Oscar host. Talk about being off to the races.
I think that's a decent enough overview, but I've gone into some depth across the various category pages in our Contenders section this week. So rather than being somewhat redundant, I'll just point you there. All of the predictions there are now reflected in the sidebar. Apologies for this column being a day late, but the sleep was nice.
Next week we'll be mid-Toronto with a whole other list of considerations. Until then, enjoy the updates. You can go back and check out my Telluride coverage here and Guy's on-going Venice coverage here.
[Photos: Fox Searchlight Pictures, Roadside Attractions/Liddell Entertainment, Focus Features]