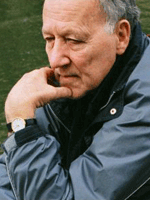 Telluride Film Festival
Legendary filmmaker Werner Herzog first attended the Telluride Film Festival at its second annual way back in 1975. He brought with him "Aguirre, the Wrath of God," which would not be released in the US for another two years, and "The Enigma of Kaspar Hauser." He was also set to receive a tribute, still at the beginnings of his career. He has come back almost every year since, and almost every year with a new film to show audiences.
The film he brought to the 38th annual fest is perhaps his most accomplished documentary in some time: "Into the Abyss: A Tale of Death, a Tale of Life." It was, as outlined from the mountains, my favorite film of the festival and a testament to Herzog's powers of observation and reverence for everyday people and their plights.
It seemed to me that, while I greatly enjoy writing up interview pieces that pull the layers of a subject back in the written word, a person like Herzog simply must be heard. The shifts from cerebral consideration to childlike awe and excitement over what he discovers and learns in his filmmaking adventures are better served by his voice, not that voice distilled through my own. So below, have a listen to my discussion with Herzog from Sunday afternoon at the fest. It was the day before his 69th birthday, a day he typically celebrates in Telluride amongst the cinephiles.
[display_podcast]
Additionally, here are two clips from the film, which do a nice job of illustrating the balance afforded to the material by Herzog:
"Into the Abyss: A Tale of Death, a Tale of Life" will play the Toronto film festival later this week. It will be released domestically by Sundance Selects.
[Photo: Sundance Selects]