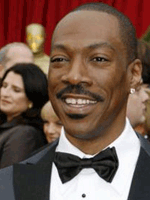 The possibility of Eddie Murphy hosting the Oscars this year first started swirling over the weekend while I was up at the Telluride Film Festival. It was interesting to note that, of the various press and industry people I spoke to about the possibility, most were somewhat positive on the prospect. And the more I thought about it, the more I was strangely okay with it, too. And now, according to Deadline, the press release is imminent.
Murphy's career has obviously been little more than a cash-grab for quite a while now. Save 2006's "Dreamgirls," which brought him within arm's reach of an Oscar win, he has stayed in the frame of schlock comedy and crowd-pleasing shenanigans. But one thing is rather clear: he's still very much the showman he always was, and with a newly developed relationship with Oscarcast producer Brett Ratner (who recently directed Murphy in "Tower Heist"), it seems a stint hosting the Oscars could work.
And I actually want to see this. It's fresh (in that Academy way, mind you — Murphy hasn't done variety show work since "Saturday Night Live" 25 years ago). It's unexpected. And, assuming the film is a hit this fall, it could do something for ratings (though probably not much — that has mostly to do with what films are nominated). So color me optimistic.
Nikki Finke lays it out simply like so:
I've just learned that Eddie Murphy has officially agreed to host the 84th Academy Awards. Today, Oscar producer Brett Ratner is formally telling the Academy Of Motion Picture Arts & Sciences that he's chosen Murphy to emcee the Oscars and an announcement will be made.
It's also worth pointing out these interesting comments from an anonymous source in Finke's earlier post on the matter:
Nobody knows movies better or is a bigger cinephile than Eddie. Not Brett. Not even Quentin Tarantino. Eddie can quote scenes from every single movie word for word. He can bring all that experience to hosting. Plus he has Saturday Night Live experience before a live crowd. And worldwide the biggest crossover comedians are Will Smith and Eddie Murphy.
Though who knows if that "source" isn't merely someone from Murphy's agency, WME, spinning it positively. Someone there was clearly one of her sources elsewhere in the piece, telling her they think it's a "real coup" for Murphy and his "dormant career."
Anyway, it's time to get your feelings if you haven't already offered them. What do you think of Murphy as this year's Oscar host?
UPDATE: And on cue, the official Academy press release:
Beverly Hills, CA (September 6, 2011) – Oscar® nominee Eddie Murphy, whose performing career spans movies, television and the stage, will host this year's Academy Awards show on Sunday, February 26, 2012, telecast producers Brett Ratner and Don Mischer announced today. This will be Murphy's first hosting stint on the Oscars®.
"Eddie is a comedic genius, one of the greatest and most influential live performers ever," said Ratner. "With his love of movies, history of crafting unforgettable characters and his iconic performances – especially on stage – I know he will bring excitement, spontaneity and tremendous heart to the show Don and I want to produce in February."
Commented Mischer, "Eddie is a truly ground-breaking performer, whose amazingly diverse array of roles has won him a devoted audience of all ages. His quick wit and charisma will serve him very well as Oscar host."
"I am enormously honored to join the great list of past Academy Award hosts from Hope and Carson to Crystal, Martin and Goldberg, among others," said Murphy. "I'm looking forward to working with Brett and Don on creating a show that is enjoyable for both the fans at home and for the audience at the Kodak Theatre as we all come together to celebrate and recognize the great film contributions and collaborations from the past year."
Murphy began his career at the age of 15 as a stand-up comedian. In 1980, at the age of 19, he joined the cast of "Saturday Night Live," becoming the show's youngest cast member to that point, and bringing to life many of the show's most memorable characters. His 1983 album "Eddie Murphy: Comedian" won a Grammy Award for Best Comedy Recording. It included portions of his groundbreaking HBO special "Eddie Murphy Delirious." In 1987, "Eddie Murphy Raw" was theatrically released and went on to gross over $50 million. Murphy made his feature film debut in 1982 with the classic "48 Hrs." and would go on to star in such box-office hits as "Beverly Hills Cop" and the "The Nutty Professor" and "Shrek" franchises. All told, movies in which he has performed have earned in excess of $7 billion worldwide during their theatrical releases.
Murphy earned an Oscar nomination in 2006 for his supporting role in "Dreamgirls."
Academy Awards for outstanding film achievements of 2011 will be presented on Sunday, February 26, 2012, at the Kodak Theatre at Hollywood & Highland Center, and televised live on the ABC Television Network. The Oscar presentation also will be televised live in more than 200 countries worldwide.
[Photo: Geek Tyrant]