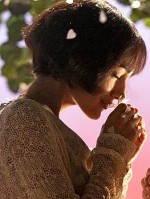 (Review of "Tinker, Tailor, Soldier, Spy" landing later this morning. Hang tight.)
Todd Solondz has forged a loyal friendship with the Venice Film Festival across the second half of his career: all three of his last features have premiered here. Their mutual devotion somewhat surprises me, given that both Solondz screenings I've now attended on the Lido have seemingly been received with a measure of polite confusion by the home crowd, like an awkward cocktail party guest joining in the laughter at a joke he didn't quite hear. Perhaps other high-end festivals simply lost their taste for his casual misanthropy; after the 1998 career peak of "Happiness," most arthouse audiences seemed to do the same.
They could potentially be lured back by "Dark Horse" (***), a more streamlined character comedy that, while neither as probing nor as acidly funny as 2009's "Life During Wartime," might just represent the warmest film Solondz is capable of making.
That's not to say he's come over all Nora Ephron on us — the director still trades in emotional paralysis, and throws in Hepatitis B as a crucial plot point for good measure — but the film is colored by an overriding spirit of grudging compassion toward its Joe Schmoe lead Abe, a lonely, underachieving real-estate drone played with a kind of modest anti-charm by Jordan Gelber.
35 years old and still living with his alternately impatient and ineffective parents (Christopher Walken and Mia Farrow), Abe pursues conventional domesticity with a blind eye to his own romantic naïveté; when an attractive but equally damaged acquaintance (Selma Blair) accepts his rash proposal of marriage for less-than-ingenuous reasons, however, he finds adulthood no less elusive than it has been all his life. The title stems from Abe's assertion that society is divided into "frontrunners" and "dark horses"; the titular filly, however, may not be him but Marie, a deceptively spinsterish colleague who seemingly appoints herself his unlikely mentor. Played with zappy comic verve by Donna Murphy, she could indeed be the secret protagonist of this piece.
The concentration on a more intimate network of characters has brought out, if only in flashes, the scuffed and bent humanist in Solondz: key scenes between Gelber and Blair, in particular, manage a cruel kind of heartbreak. (Sample exchange: "I want to want you." "That's enough for me.") More familiarly, the script is peppered with coolly banal details that pass excessively condescending judgment on his characters: Abe's creepy enthusiasm for Vanessa Hudgens-style pop music (though, remarkably for a Solondz figure, he isn't actually a paedophile) is a funny but over-milked gag, and the bloodless characterization of his parents (Christopher Walken and a nice-to-see-you Mia Farrow) makes one wish for a little more range and generosity in his view of the middle classes, but such concerns have long been par for the course with Solondz , a still-smart auteur who barely craves even the second half of his enfant terrible tag these days.
Writing-directing team Marjane Satrapi and Vincent Paronnaud struck international arthouse gold with "Persepolis," a spikily drawn animated feature based on Satrapi's memoirs of growing up amid conflicting cultural influences in Iran. They've mined her family history again for their follow-up feature "Chicken With Plums" (**1/2), again based on a Satrapi graphic novel, though one imagines cribbing the life story of her great-uncle allows rather more room for fabrication. They've switched media too, or rather mixed them – occasional animated sequences interrupt the predominant live action rendered in such floridly stylized terms it makes "Persepolis" look like a Dardennes Brothers movie.
The medium really is the message here – or if it isn't, it reveals more about Satrapi's ideals of romance and artistic bliss than her thinly incidental narrative recounting the final days of Nasser Ali (a curiously cast Mathieu Amalric), a celebrated concert violinist who renounces living when his prized instrument is broken. As he is visited by visions of past and future as he languishes in his self-determined deathbed, we learn of the grand love affair that fuelled his music, though it's tossed in as such a rushed afterthought that we question the reliability of his memory.
Perhaps that's the point: Satrapi and Paronnaud are certainly more concerned with ornamenting memory than with parsing it, decking out this slight fancy — those squinting a little may find a ribbon of political metaphor amid the clutter, but don't strain yourself — with a cornucopia of visual filters and frills that pitch the film's aesthetic roughly halfway between Satrapi's own illustrative work and one of the adolescent Jean-Pierre Jeunet's more elaborate wet dreams. They're all realized with exquisite aplomb by the wonderful French cinematographer Christophe Beaucarne ("Outside the Law," "On Tour"), but the cumulative effect is oppressively frou-frou and only intermittently beguiles. "Chicken With Plums" may be as incongruously sweet as the traditional dish of the title, but it's rather less nourishing.
If visual business is used to cloud the heart of Satrapi and Paronnaud's film, James Franco is determined not to let such frivolities get in his way. And so it is that "Sal" (**), the many-hobbied actor's dutifully unsanded if oddly endearing fifth feature as director (his last effort, "The Broken Tower," has gone wholly undistributed) establishes its Serious Credentials early on with opening credits typed in DOS-era sans serif font and a lens that appears to have been dunked in wallpaper paste. A fly-on-the-shoulder enactment of the final day in the life of Sal Mineo, the boyish, gay Hollywood actor whose fading career ended with a fatal 1976 stabbing in his driveway, "Sal" shares more than just a structural conceit with Gus Van Sant's "Last Days" — the esteem in which Franco holds his "Milk" director is evident in everything from the film's wilfully unbalanced framing to its opaque performance style.
Franco is borrowing from the best for this manner of material, and his film is lent some solemn cred by the self-possessed, unmannered one-man-show of the little-known Val Lauren as Mineo. From the first shot of him sweatily pumping iron in a gym (followed immediately by him getting down to Abba's "Dancing Queen" in a night club — Franco's evocation of 1970s homosexual living perhaps wants for subtlety), the camera hangs so dependently on his every gesture that the film would wash away if he were any less committed. Still, Van Sant's offhand documentary style is harder to emulate than it looks, and "Sal" is too muddily shot and imprecisely edited to withstand the comparison. It's not the vanity bomb many might have feared from the ever-overachieving star, but it's too much in thrall to both its subject and its influences to show us what Franco the Filmmaker is really about.
(Photo: Venice Film Festival)