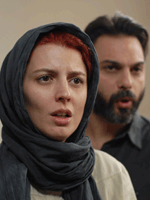 Today is the final day of the 38th annual Telluride fest, and the whole thing was another rewarding sprint through the Labor Day weekend. This afternoon I had the great pleasure of sitting down with "The Descendants" star Shailene Woodley to get her wide-eyed, "it's all happening" perspective on the early days of this year's awards season. But the day started with perhaps the narrative highlight of the festival for me so far.
Asghar Farhadi's "A Separation" is, plain and simple, a masterful piece of work that will be with me for a very long time. On the surface it is about the fallout of an Iranian couple headed for divorce but side-tracked by a tragic accident that leaves the husband tangled in a judicial web, but on a deeper level, it's about so much more. Call it "divorce and its discontents," because it is, ultimately, a study of parenthood and integrity and situational decisions that impact the impressionable.
The film is the talk of Europe, so said director and Telluride staple Peter Sellars (with an "a") by way of introduction. And it looks to be erasing the lines that politics can so often darken, he said. The film features a number of expertly tuned performances from Peyman Moaadi, Leila Hatami, Shahab Hosseini and Sareh Bayat, but it's young Sarina Farhadi who steals your heart in the film.
I was incredibly moved by the humanity of Farhadi's work and its skillful grace. This will be Iran's official Oscar submission, and it had better land a nomination for Best Foreign Language Film or it's just time to call the whole thing off.
And with that, my 2011 Telluride experience draws to a close. I cherished talking about hiking Kauai's Napali coast with Shailene Woodley and trying to keep up with George Clooney's political chatter. I was moved to be in the presence of Serge Bromberg and his preservation work. I was, no question, humbled to be in the presence of the great Werner Herzog (interview to come later in the week). I delighted in the usual schmoozing and boozing and catching up with publicist friends who lurk behind the scenes but are, so many of them, genuinely incredible and unsung people.
And, of course, I enjoyed yet another opportunity to see great works of cinema at a festival that just can't be matched for its enthusiasm for the form. I'm sad to go, but I'll definitely be back. I hope the coverage was up to snuff.
Check back later today for a post-mortem Off the Carpet column addressing the takeaways from here and Venice. I'm off to the airport in a matter of minutes. Goodbye Colorado.
Just for fun, ranking the features I saw:
1. "Into the Abyss: A Tale of Death, a Tale of Life"
2. "A Separation"
3. "Shame"
4. "The Descendants"
5. "The Artist"
6. "Le Havre"
7. "Albert Nobbs"
8. "A Dangerous Method"
9. "Pina"
Really bummed to miss but will catch at some point:
"In Darkness"
"The Island President"
"George Harrison: Living in the Material World"
"The Turin Horse"
"We Need to Talk About Kevin"
[Photo: Sony Pictures Classics]