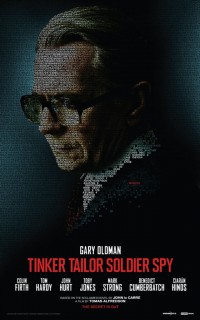 Venice Film Festival
An uncharacteristically dark Venetian downpour greeted this morning's premiere screening of "Tinker, Tailor, Soldier, Spy," and if some flashbulbs of lightning last night hadn't already previewed the turn in weather, I'd suspect the pervasively, necessarily drab atmospherics of Tomas Alfredson's artful John le Carré adaptation of bleeding out from the screen and into the beyond.
Looking for all the world as if the print has been stewed in black tea before being left to gather a few months' worth of dust in the projection room — and that's a good thing, I hasten to add — the film proves a happy marriage between two very different brands of understated precision: the British scholarliness of le Carré's dense espionage lore and the icier Scandinavian calm that Alfredson brought to his breakout vampire drama, "Let the Right One In."
In many ways, Alfredson directs le Carré's self-described "little gray men" of Britain's MI6 intelligence service as they are themselves vampires of the Cold War: lurking in irremovable half-light, striking efficiently and selectively, and only notionally acquainted with the concept of sunlight, these thickly-tweeded spies appear to bear the burden of their profession as a lifelong alibi for the avoidance of intimacy, social functionality and even standard-issue conversation.
"I don't know about you, George, but I feel seriously underfucked," says a prematurely retired female agent, played by Kathy Burke with a sad twinkle that says everything about the heart-hollowing effects of a life spent tracing the shadows of others.
The "George" in question is Gary Oldman's Smiley, himself separated from his unseen wife, a veteran lieutenant of The Circus (the insiders' codename for MI6) who finds himself, with his supervisor Control (an ideally crisp but weather-beaten John Hurt)  put out of service following a junior colleague's botched Hungarian mission.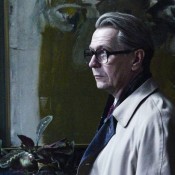 His lonesome London holiday is short-lived: the revelation that an unidentified mole is burrowing deep into the Circus's musty corridors prompts the British government to place him in pursuit of the offending double agent — this despite the fact that Control regards Smiley himself as one of five suspects, a group for whom (minus the "Poor Man" figure) the film is named. Already a professional ghost of sorts, this turn of events pushes Smiley into even shadier self-erasing territory, as the fraught cat's-cradle of mid-1970s international relations continue to smolder around this local crisis.
A more detailed breakdown of the narrative would unproductively consume the remainder of this review; as it stands, screenwriters Peter Straughan and the late Bridget O'Connor (to whom the film is dedicated) have evidently sweated blood trying to fillet and discipline le Carré's tightly packed 400-page novel into a two-hour film that is still stylistically required to leave the impression of a slow burn. The much-loved 1979 adaptation of "Tinker, Tailor" for British television had five hours in which to complete this mission, so it's remarkable that the big-screen interpretation feels so much of a piece with it on levels both dramatic and aesthetic, even as certain judicious cuts and short cuts have been made. You'd have to be a serious stickler to feel that either source has been betrayed in Alfredson's more ambitiously visualized conception; its slightly fussy meticulousness may even be its chief hindrance.
Some le Carré loyalists may mourn the unavoidable curtailment of certain character arcs, and even if there's a slight air of methodical parsimony to the way scenes and lines have been dished out among the men below Oldman, certain faces in the film's impeccable ensemble do get short-changed. (For the audience, this is a pretty luxurious concern to have: better to have an actor as economically vivid as Ciarán Hinds than a dull one in a truncated role.)
Still, There are multiple momentary pleasures to be had across this spread of Britain's finest — the shivery dignity of Colin Firth's final scene, or even the way Simon McBurney ostentatiously bites into a slice of toast — but it's the ever-impressive Tom Hardy who, together with the aforementioned Burke, most memorably seizes his metered screen time, bringing the same louchely knowing intelligence to proceedings that he used to breathe air into last year's "Inception," tempered with the darting fearfulness of a character who scarcely trusts his own words.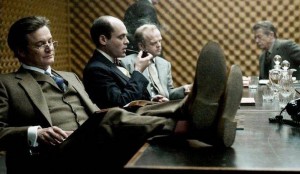 As Smiley, Oldman has perhaps handed himself the toughest task of all: with cherished memories of Alec Guinness's TV portrayal weighing heavily on his shoulders, he has chosen to tread a similarly dry path of expression and gesture. Eyes frequently shielded by the character's trademark cola-bottle spectacles, he works his own personality into sly infective details and hovers patiently around many scenes before snatching one for a moving, quivering monologue; it could be the one that secures the actor his long-overdue Oscar nomination, but for the most part, it's selflessly subtle work that recognizes the character's responsibility to fade into Alfredson and DP Hoyte van Hoytema's carefully autumnal palette of dun browns and flannely charcoals.
Rarely has a perversely beautiful lack of vitality been so integral to a film's success: for all the accomplished work done on the storytelling front, principal memories of "Tinker, Tailor, Soldier, Spy" may well linger on Maria Djurkovic's splendidly down-at-heel production design, a veritable rabbit-warren of graying wood, petrified office furniture and gloriously tasteless bursts of contemporary modernism, like the queasily orange graphic pattern that papers the Circus's main conference room. Everyone on set and off seems to have taken their cue from these worn-in but hardly comforting surroundings — Alberto Iglesias's mournfully brass-heavy score is another asset.
Alfredson was an inspired but sensitive choice to direct this potentially outmoded material, and his delicate mood-cultivating sensibility reaps the same rare rewards that it did in his previous hit. A classy throwback to the pleasures of long-view tale-spinning, and an evocation of a time and place fading before its occupants' own eyes, this is as inactively riveting a thriller as anyone is allowed to make these days.
(Images: Focus Features)