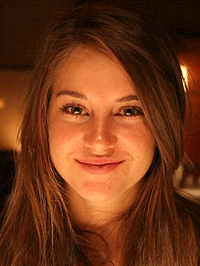 Telluride Film Festival
If anything or anyone is a break-out, on-the-rise element of this year's Telluride Film Festival, it's 19-year-old "The Descendants" star Shailene Woodley. She stars in the film opposite George Clooney as a teenager with the appropriate angst but gives a performance that has captured the attention of many in attendance here. Naturally, she's frequently found herself stopped on the street by admirers and well-wishers praising her work and the festival's most talked-about film.
When you talk to Woodley, you get the sense of a young person crossing that key boundary in life between adolescence and adulthood. Call it "finding yourself" if you like, but the experience of making the film in Hawaii with the likes of filmmaker Alexander Payne and actor George Clooney had a major impact on her.
"The four months in Hawaii really shifted who I am as a human being," she says at the New Sheridan Hotel restaurant in town. "It was such a spiritual thing for me. It has a different energy than anywhere else. The pace there, the way you move and talk, it's so different. I left there being authentically happy with myself. It was both being on set and hiking and being outdoors and meeting people. I feel so fortunate to have got a callback for this movie, let alone have done it. It's mind-blowing."
In the film she plays a teenager stuck with the reality of her mother's sudden coma and impending death, a father struggling with the harsh truth of his wife's recent infidelity and a younger sister who must remain innocent at all costs to the harsh truths swirling around the family. Woodley's own parents are divorced, but it was a civil split, she says, continued Christmas dinner gatherings and an amicable friendship, etc. So there wasn't much to legitimately pull from there. She had recently gone through a bad break-up and maybe, she says, that allowed her to tap into her emotional side when necessary in the film, but mainly she's quick to praise the work of others for making her job easy.
"The writing was so amazing and evoked so much," she says. "Given the writing and given Alexander and George and the other actors, there wasn't any acting to be done. It was really saying the words as they were written and then listening. I'm not a good actor. I'm just a professional listener. If you listen to what the other person is saying and the truth of what they're saying, it will hit you."
In perhaps her character's most emotional on-screen moment early on in the film — when she's confronted with the fact that her mother will pass — the character is in a swimming pool. She submerges herself and lets out an aching cry before swimming underwater, as if trying to escape the pain, yet struggling against the current as if in slow motion. It's a powerful visual moment. On the page it was merely scripted as "She goes underwater and distorts her face," but Woodley made it her own.
"I was actually born in the water, literally," she says. "So water has always been my comfort zone, my safe zone. It was a place she could go and be vulnerable and not face the fear. And it was really fun to just go down there and lose your shit."
The first time Woodley met co-star Clooney was at the Los Angeles table read. They sat down and went through the script, and after a few hours, Clooney leaned over and said, "They won't be bringing you back after that," meaning she pretty much nailed it. And that's when the impending fun of the project really clicked for her.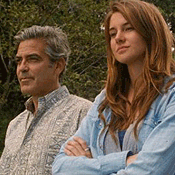 "He gets up, smiles and winks, and when he did that I was like, 'Oh, wow, I have nothing to be intimidated by,'" she says. "'This guy is awesome. It's on. We're going to have a blast.' He's not only laid back but he's truly humble and grateful. He lives his life in gratitude. It's weird because I don't think of him now as 'George Clooney.' He really is just, you know, strip away the fame and he's a guy from Kentucky with a heart of gold."
She's quick to mention that one of the many things she hears from people around town is that they have never seen Clooney in this light. And she fully agrees, adding that the actor "did so many subtle things in the movie. And he was vulnerable. I don't think many people have seen George Clooney as a vulnerable, disheveled man. You know, you see him as "'two-time sexiest man alive.'"
Woodley shares much of the screen with newcomer Amara Miller, who stars as her little sister, Scottie. Miller had never acted in so much as a school play. She was a friend of a friend of Payne's who filled the role two weeks before shooting, Woodley says, but she couldn't have been more perfect for that.
"She nailed that role," Woodley says. "It was so amazing to see someone who hasn't been jaded and who isn't an actor and hasn't been trained in acting. We did one scene where we were on the couch talking and in doing that scene, Amara, just being herself, can't stay still. She incorporated that into her Scottie character, so Amara started rolling around on the couch while she was doing that scene and putting her hands up and it's brilliant, because she 100% was authentically in the moment."
But it was the collaboration with Payne and his deft directorial touch that really seems to have resonated most for Woodley. Calling Payne one of her "top five favorite human beings on the planet," the actress just can't find enough words to express her love and gratitude for him.
"As a director, he would say things like, 'You're not being Shai,' and I would instantly know what he was talking about," she says. "Because he's so good at getting to know you as a person and calling you out when you're not authentic in a scene. Acting isn't about being a character; it's about being yourself through that character's rules and restrictions."
She also greatly appreciated his penchant for allowing real collaboration and insight that she feels is somewhat rare in her limited experience so far.
"So many of the scenes he'd go, 'What do you want to do? Where do you want to stand?,'" she says. "That never happens. Sometimes you get a little freedom, but it's generally along the line of what they want. He had a point of view, but within that point of view, you were given the freedom to express yourself through that character."
Perhaps more importantly for her, however, has been her crash-course in film education under Payne's wing. The cinephile director has probably seen 15 or 20 films at the fest, bouncing from event to event and really soaking up the Telluride spirit. And Woodley has had a chance to see a few things, too.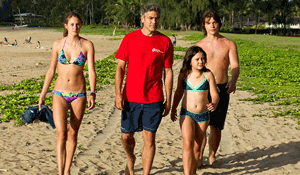 She's embarrassed to admit that "The Artist" is her first silent film (though as a 19-year-old non-film-aficionado, that can certainly be forgiven). She absolutely adores the film and how its sad moments, rather than leaving you "mildly depressed about your own life" seem to ring a more positive tone. She is a huge environmental advocate, so "The Island President," about Maldives President Mohamed Nasheed's climate change crusade, was a big high point, too.
She loved Steve McQueen's "Shame" but says she'd like to let it marinate and give it another look down the line. But she was really taken by a classic in one of the festival's retrospective programs.
"I saw 'The Apartment,'" she says with a touch of excitement, "which I had never seen. Alexander was like, 'You must go see this.' Oh my gosh I loved it.
"I am probably the most uneducated actor when it comes to knowing directors and producers' films. I really don't know anyone. I didn't even know who Alexander was before this movie. But through Alexander and Jim Burke, who is the executive producer, and George, who's also a major film nerd, I have a list of like 700 films. I'm slowly but surely checking them off. It's fun. I see this as a great opportunity. I get to do what everyone's already done and share the experience."
And indeed, Telluride is the perfect place to continue that journey, and to start a new one with "The Descendants."
"The 'C' word in my vocabulary is 'celebrity,'" she says. "The 'F' word is 'fame' and the 'S' word is 'star.' Unless you're, like, George Clooney or Julia Roberts, I don't like when people use those words. I mean, this festival isn't about who you know and what parties you get into and what you're wearing. This festival is about film."
And, she says, it's a great way to ween her into a circuit that will be long and unforgiving after this Labor Day weekend. From here she travels with the film to Toronto, where she'll no doubt sit down for more than her fair share of interviews before continuing along a similar track throughout the season, perhaps right into the Best Supporting Actress awards discussion.
But it's lovely to get her perspective now, before the madness so many of us see coming. She has such a good head on her shoulders, though, that you just know she'll be exactly the same whip-smart, centered and wise-beyond-her-years individual she is now in six months' time.
[Photos: Sasha Stone, Fox Searchlight]