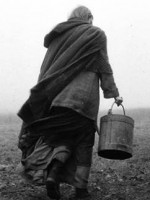 This news has been hanging around for a few days, but amid the Venice hubbub, I haven't found a moment to post it until today — though we did address it briefly in Friday's Oscar Talk. With less than a month to go until the deadline, the pile of official submissions for the Best Foreign Language Film Oscar is slowly growing — and the most prominent of them is a title I already reviewed at February's Berlinale.
That film would be Béla Tarr's "The Turin Horse," which won the runner-up Grand Prix at the festival and just screened at Telluride this weekend, and which I described as "a stately, granite-textured and altogether rather tremendous" work in the famously austere director's canon. Hungary has a history of choosing ballsy and utterly doomed Oscar submissions — "Taxidermia," anyone? — but this is the first time they've dared to enter a Tarr opus.
I'd be tempted to call it a similarly noble but hopeless choice — I have no doubt that the foreign-language branch's regular votership will be left mostly bewildered by its real-time monochrome study of potato-boiling, among other delights — but for the sway of the executive committee, which has been doing its best to shake up the process with some left-field choices of late. In this post-"Dogtooth" Oscar age, I'm never going to say never, but I'm sceptical nonetheless.
Elsewhere, a presumably tight selection process has resulted in Sundance-awarded comedy "Happy, Happy" beating critically-admired Cannes entry "Oslo, 31 August" to the honor of being Norway's submission. The film, which I haven't seen yet, hits US screens later this month, charts the light sexual infidelities between two neighboring couples; it sounds popular enough in appeal to potentially score with the Academy, though a racially-themed subplot has raised an eyebrow ior two among certain reviewers.
Austria has stuck with the Cannes theme and picked one of the more well-received films (I'm afraid I didn't see it) from the Directors' Fortnight sidebar: "Breathing," the debut feature of veteran actor Karl Markovics, is a solemn drama about an 18 year-old juvenile detention center inmate who takes a job in a mortuary in the hope of being granted parole. Austria scored twice in this category recently with "The Counterfeiters" and "Revanche" — and this year's hopeful shares a DP, the excellent (and excellently named) Martin Gschlacht, with the latter, so maybe that's a good omen.
The Dutch, meanwhile, are treading on Poland's toes this year by going down the tried-and-tested Holocaust-drama route — okay, not strictly so, since "Sonny Boy" is a decades-spanning interracial romance that only apparently culminates with the rise of Nazism, but you take my point. If there's only room for one film incorporating that era — not that Academy members are always that frugal with their favorite themes — I'd keep my money on the Sony Pictures Classics release directed by Agnieszka Holland.
Finally, two films that have entered the race since my last update are South Korea's period action film "The Front Line" and Serbia's true-life football drama "Montevideo, God Bless You!." Neither sounds a particular threat to score a first-ever nomination for their countries, but if you know otherwise, please enlighten us in the comments.
We'll have a separate page tracking the submissions shortly.
[Photo: The Cinema Guild]