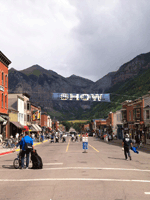 I opted out of tonight's screening of "Butter" largely because — sorry to say — the Galaxy theater is just too cramped and uncomfortable and hot to fully enjoy a film experience. For me, anyway. I tend to be a furnace regardless, but they need to pump some AC into that joint. By some accounts, though, it was a delightful if somewhat skippable affair. Instead I took to the party circuit, as three studios chose Saturday to hold their talent-studded affairs.
The night started with Sony Pictures Classics' annual dinner gathering at La Marmotte. In attendance were "A Dangerous Method" scribe Christopher Hampton, "A Separation" writer/director Asghar Farhadi and "In Darkness" director Agnieszka Holland. Pay close attention to those last two, as they will no doubt figure into this year's race for Best Foreign Language Film.
I had a few choice moments with Hampton to discuss his collaboration with David Cronenberg. Unfortunately, I haven't yet seen the film (Sunday night seems to make the most sense), but I did ask about his take on some reviewers (including our own Guy Lodge) preferring a bit of overt and edgy Cronenberg for a clearly sexual project. His response was that austerity was preferred considering a commitment to truth, and indeed, it seems to me a more cerebral approach would be, at the very least, more realistic for a film such as this. I'll have an opinion soon enough.
I had a great time discussing the faults of Michel Hazanavicius's "The Artist" with indieWIRE correspondent Eugene Hernandez (who finds himself reporting now for the site he founded so many years ago, interestingly enough). And another screenwriter present at the dinner who shall remain unnamed also found the film to be paper thin and incredibly slight. I wonder if heightened expectations will harm that one as it pushes through the festival circuit, but we'll see.
I also spoke briefly with Sony Classics honcho Michael Barker, who tells me to watch out for Jodie Foster as a Best Actress contender in "Carnage." Many reports seem to indicate that she has the most to work with for an Oscar campaign, but the strategy on "A Dangerous Method"'s Keira Knightley is still somewhat in question. At the end of the day, the studio could have a pair of performances to hawk in the category.
Next it was off to an intimate IFC gathering, where Berlinale director Dieter Kosslick, Palm Springs fest programmer and Seattle fest artistic director Carl Spence and the Lincoln Center's Scott Foundas and Rose Kuo, among others, hunkered down for dinner. Werner Herzog was present, and so I took the opportunity to briefly introduce myself ahead of our scheduled Sunday interview and, basically, babble on about "Into the Abyss: A Tale of Death, a Tale of Life" and "Aguirre, the Wrath of God" for a few minutes.
Later on, Telluride co-director Tom Luddy brought me over to meet Pierre Étaix, a filmmaker and artist many, no doubt, are discovering this year for the first time due to his being feted by the fest. The Dardenne brothers have been sequestering Étaix, stunned that he's actually here. He's enjoying himself, of course, flattered by the unexpected attention. I was honored to shake his hand.
Finally it was off to the New Sheridan and Fox Searchlight's swanky shin-dig with George Clooney and Alexander Payne in attendance. I found myself at one point engaged in discussion with Clooney, Hollywood Elsewhere's Jeffrey Wells, The Hollywood Reporter's Todd McCarthy and filmmaker Anthony Maras (whose short film "The Palace" is screening here). The entire conversation pretty much centered around politics with plenty of Clooney's trademark charm and expert storytelling skills.
I couldn't begin to get into the various things discussed, but I did pull him aside for a moment to congratulate him on what might be his finest performance to date in "The Descendants" and tell him I hope to hear more about the work throughout the Oscar season. He took a sip from his Belvedere and soda and waved a dismissive hand, saying, "Eh, we won't worry about that." I totally believe him. After all, what do you get the man who has everything…including an Oscar?
Payne left the party early. I'm told he isn't much for press at the festival this year. He'd much rather take in screenings and be the film nerd he is. Word is a Q&A between him, Clooney and Ben Mankiewicz was a total travesty this morning, with the former "At the Movies" host asking unnecessarily probing questions about Payne's seven-year hiatus between feature projects and the consistency of infidelity in his work. I'm told Payne pretty much regressed to one-word answers by the end of things. Ouch.
Finally it was off to the hotel and a slightly inebriated sit-down to type these words. Tomorrow brings an interview with Herzog that has me at once giddy and terrified. A number of films are still on my list of hope-to-sees, but Steve McQueen's "Shame" will be a must (and Guy will beat me to the punch out of Venice in a matter of hours, I imagine). For now, it's time to close the book on this Telluride night. More as it happens.
[Photo: Kristopher Tapley]