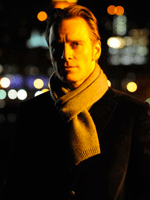 Today's screening of "Shame" was the big note of anticipation for me at this year's Telluride fest. After bowing in Venice earlier this morning to generally positive praise, my hopes were still high that Steve McQueen made good on the promise of "Hunger" three years ago. And did he ever.
I'm tired, at the end of a four-film stretch today, so I'll try not to wander here too much. But the story of the film is Michael Fassbender's remarkable performance as a sex addict with a dark past that McQueen only vaguely addresses on the page, allowing the actor to indicate with subtlety and precious strokes of nuance what might be eating away at him.
Once again, McQueen utilizes long takes to allow his actors to explore in the harsh gaze of the camera. But the technique, perhaps more than his previous effort, even, becomes a tool for navigating the viewer. When Fassbender is filmed jogging for a number of minutes, the camera dollying alongside him as he passes intersection after intersection, the effect goes beyond mere observation. McQueen is ushering us, without cheap manipulation, into the character's mindset.
Carey Mulligan, it should be said, is fantastic as Fassbender's sister, the two of them sharing a damaged reality with little to no grace in sight. But the film is an intense character study with a title that suggests something so dark as to remain unspoken, yet so evident. I think it could have been something purer had a final plot point not been so obvious and dramatic, but the takeaway here is Fassbender's finest performance to date. And in a year that has already brought an above average turn in the summer blockbuster "X-Men: First Class," the actor has turned on something that apparently can't be turned off.
Or can it? I found myself absolutely suffocated by David Cronenberg's "A Dangerous Method," an excruciatingly uncinematic adaptation of Christopher Hampton's Sigmund Frued/Carl Jung play "The Talking Cure," which itself was taken from the John Kerr book which lent the film its title. And in it, I was surprised at how inconsequential Fassbender — in the only true leading role of the film — came off.
The stage origin of the material has apparently kept the film caged in, never breaking out in any truly filmic way. And it's astonishing, given that Cronenberg is at the helm. Austerity and truthfulness may have been a goal (and a noble one, that), but nothing about this film seems to register as something that needed to be told on celluloid.
Hampton is such a fine writer (an Oscar winner for his "Dangerous Liasons" adaptation over 20 years ago) that I was taken aback at the talking head nature of the thing. The white space must have been aplenty in his script as it is wall-to-wall dialogue, with no real visual identity to the film as it pertains to his players, whose identities and character are evident only in the words they speak. One string of them as uttered by Fassbender's Jung regarding Viggo Mortensen's Freud struck a chord: "I'm disappointed by his rigid pragmatism." I could say the same of the film.
Fassbender feels of so very little consequence here. It was like a cold bucket of ice water to the face after McQueen's film. Keira Knightley often tumbles off the rails and rarely seems to have a hold on her character (which could have been a virtue given that she's playing a mentally ill individual, but it only smacks of uncertainty and lack of guidance). The only joy I found in the entire enterprise was Mortensen's delicious submersion into his role.
Mostly, though, I'm stunned at Cronenberg's willful anonymity here. I didn't need overt Cronenberg. I didn't need risque or edgy Cronenberg. I just wanted a movie, not a toothless string of lines of dialogue.
It made for a very curious double feature today, to say the least. And I don't expect much Oscar traction for either. "Shame" could go a very long time without finding a distributor, given its extremely racy nature. Though word is Fox Searchlight is sniffing around the film as the studio continues to slightly change its typical tack.
"A Dangerous Method," meanwhile, could garner some below-the-line attention (it's handsomely mounted on that front), while I could see Knightley joining the conversation for Best Supporting Actress. But little else seems realistic. Hampton's talky script might get some love from writers with a passion for delicious conversation, but again, I'm feeling down on it really ringing many bells. We'll see have to see how it does at Toronto.
Guy's take on the Cronenberg can be found here. His thoughts on the McQueen here.
[Photo: See-Saw Films/Film 4]