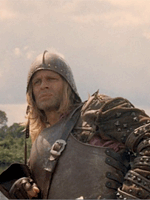 The interesting thing about Telluride is, the moment things begin to heat up, they also feel like they're beginning to wind down. I still have screenings of "Shame" and "A Dangerous Method" to come today, and may duck into Asghar Farhadi's "A Separation" tomorrow morning before hopping the shuttle back to Montrose, but for the most part, it feels like we're peaking now.
I started the morning with a look at Aki Kaurismäki's "Le Havre," which played Cannes in May. I don't actually think Guy ever got around to writing about the film in depth, but he did a wonderful pre-Cannes job of previewing it.
Nevertheless, I don't count myself as the biggest Kaurismäki fan, but it's very difficult to argue with the heart in this film. It should melt you a bit, if you have warm blood pumping through your veins. The crowd was delighted by it and the director's dry sense of humor.
We were all treated to a short film from the great Carroll Ballard film called "Rodeo" beforehand. It's one of those things that seemed lost to the ages for years. Ballard's own print disintegrated over time, turned red and is unwatchable now, he said while introducing it. The negative was also lost long ago. But somehow they were able to track down a positive in a California lab and send it off for digital restoration. So count it as a saved piece of film history.
And it really is a beautiful film. Ballard was able to raise $20,000 for it, a fortune back in 1968 as far as he was concerned, prompting him at the time to quip, "It's 'Ben-Hur' time!" The money came from tobacco companies in exchange for showing people smoking in the film. Whatever it takes.
A 20-minute look at a real rodeo, sparked by Ballard's witnessing a cowboy die at one once upon a time, the film is largely driven by visuals and the sounds of the environment with very little dialogue at all. It's really gorgeous, full of so many intriguing images. I wasn't surprised at all to note that a young Caleb Deschanel (who would be a life-long Ballard collaborator) was listed in the camera credits.
Later in the day I just took a walk along the creek here, breathing in the clean air and clearing my head for a sit-down interview with "Into the Abyss" director Werner Herzog. It was an absolute treat. Unfortunately I was notified late in the game that I can't run the piece while at the fest due to an exclusive granted to another (much more important) outlet for their upcoming Toronto coverage. Fine, fair enough. You can expect mine later in the week, but I took the opportunity nevertheless to ask Herzog about one of my absolute favorite films, "Aguirre, the Wrath of God," and find out how it may or may not have grown in his mind over the years. Here's what he had to say about that:
I haven't seen it for maybe 15 years or so. I made it 40 years ago. You were not even born yet. I like the film but sometimes I forget what was the story. But I've seen it with a very young audience and all of a sudden the film shifts and changes in a way, but it never ages. It's strange that it doesn't age. And it's the 15-year-olds who write to me about "Aguirre, the Wrath of God." None of the people who write to me about this particular film is older than 20.
And when the heck are we going to get a high definition release of that film?
Herzog's first trip to Telluride was something like 30 years ago. He was here for a tribute and probably had a film in tow. I'm trying to track down when and what that might have been. But ever since, he has come virtually ever year, and he always has a film with him. Not only that, but he also celebrates his birthday here each year, too. It's tomorrow. I totally bought him a birthday card.
More from the fest later. I'm off to "Shame," which Guy saw and loved at Venice this morning.
[Photo: New Yorker Films]