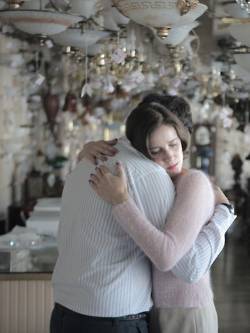 The first few days of the Venice Film Festival were so jam-packed with the big-name premieres you've been most restless to hear about that, between thrashing out full-length individual reviews of those and negotiating the braided Venice obstacles of crippling humidity and crippled wi-fi facilities, my usual roundups of less flashy fare got a bit shunted. As did anything in the way of an introduction: we may have already reached the close of Day Four, but hey, welcome to this year's Venice coverage! Hope you're enjoying it at least as much as I am. More, hopefully.
As you've probably gathered from the reviews I have written, it's been a quiet festival so far: perhaps I'm more down than most on such titles as "A Dangerous Method" and "The Ides of March," but even accounting for the more encouraging reviews, no big film has yet set the Lido alight the way last year's opener, "Black Swan," did. Indeed, the buzz film of the festival so far may well be Madonna's "W.E.," if only because critics, when bored, thrive on schadenfreude.
Meanwhile, I've been touched by the number of concerned citizens on Twitter and elsewhere asking if I was ever going to get excited about anything; happily, I did, even if the excitement came from an expected (and Greek) source. More on that, and two other foreign entries, after the jump.
What do Jude Law, Morgan Freeman, Winona Ryder and Prince all have in common? (No, they aren't in the ensemble of "Contagion," but since everyone else is, you can forgive yourself that error.) The answer, as it happens, is that they're all namechecked in "Alps" (****),  Yorgos Lanthimos' dazzlingly dislocated follow-up to the improbably Oscar-nominated "Dogtooth" — a return that should keep him on the fast-track to Euro-auteur royalty, even as it lashes out at the merest suggestion of acceptable behavior.
The invocation of these familiar names from film and pop culture — sporadically dropped into the conversation as one of the script's many riotous, explanation-averse running gags — seem present almost as an ironic slapdown to any suggestion that the surprise slow-creep success of his last film would move him any closer to the mainstream. Doubling down on its predecessor's polarizing absurdist humor and chilly formal grace, "Alps" applies those virtues to a more diffuse, ensemble-driven structure that is in no hurry to reveal its rich thematic adhesives of doubling and substitution. It'd be rash to call it a better film than "Dogtooth," but it is, in the relative scheme of these things, a bigger one, and exciting evidence of restless formal development on the part of its director. (Lanthimos' regular DP Thimios Bakatakis' camerawork is as calculated and sparing with space and depth as before, but more active and richer in palette.)
The film nails its storm-cloud colors to the mast in its opening scene, wherein a gifted teenaged gymnast (the touchingly breakable Ariane Labed, winner of last year's Venice Best Actress prize for the Lanthimos-produced "Attenberg") is threatened with grievous bodily harm by her coach when she dares to suggest more contemporary music for her ribbon-twirling routine. "You're not ready for pop," he seethes. Neither, it seems, is Lanthimos, who amplifies this unnerving sense of everyday psychosis across a progressively surreal shuffle of story strands, the most dominant of which involves a lonely young nurse ("Dogtooth" standout Aggeliki Papoulia, once more on brave form) offering herself as a replacement to the bereaved parents of a young car-crash victim. ("But I have wonderful news!" she tells them, mere seconds after delivering the time of death.)
After this description, you'd probably struggle to believe me if I told you "Alps" is a slightly warmer film than its predecessor, but in its cockeyed, proudly foot-in-mouth way, it is: the comedy is sometimes broader and more patiently, zanily observational (as in a cryptic running motif where a couple feed each other lines of stiff English-language dialogue on everything from light fittings to orgasms), which is, admittedly, cold comfort alongside its most heart-stoppingly brutal interruptions.
As in Lanthimos' previous film, there's a larger, more rule-bound narrative behind its depiction of isolated social transgression, but it'd be stealing his thunder to describe the knitwork. Suffice to say that where "Dogtooth" examined the devastating consequences of preventative social retardation, "Alps" elegantly provides a mirror hypothesis of people attempting to stall time and mortality after the fact of tragedy, like so much toothpaste scraped messily back into the tube; as studies in aggressive human denial, they make for a punishingly brilliant twin-set, with no pearls in sight.
———————
The independent and mostly low-profile Venice Days sidebar is an unexpected place to find a new work from an auteur whose last feature played in competition at Cannes, and won (however unpopularly) a Best Screenplay prize to boot. What, then, was so wrong with Chinese auteur Lou Ye's "Love and Bruises" (**1/2), an exquisitely formed if dramatically undernourished ode to bad break-ups, that it merited such relegation? I can't say I'm sure: not having seen his aforementioned previous film, "Spring Fever," I have no idea if Ye is currently on an upward or downward curve, but his latest contains enough formal verve and beats of emotional recognition to stand a respectable step below his critical breakthrough "Summer Palace"; what seems wan and watery about its writing will strike others as consistent with a delicate sensuality he's long been honing.
An effectively, if somewhat vexingly, passive screen presence, Corinne Yam stars as Hua, a Chinese student in Paris seemingly flip-flopping between an impressive range of unsuitable sexual partners. We meet her in the middle of a very clingy break-up argument; seemingly only minutes pass before she hooks up with blue-collar worker Mathieu ("A Prophet" star Tahar Rahim, making the best of a dim character), a match so obviously ill-fated that the split seems to begin before they even kiss. Ye is evidently fascinated by the masochism of those who stay in irreparable relationships, and he has a fine sense of the self-circling shapelessness of protracted romantic separations. (It may be best, however, not to examine the push-pull factors of this one too closely: would this coupling even temporarily survive Rahim's casual arrangement for Yam's rape at the hands of a friend?)
If the whole is scarcely deeper than a bowler hat, we have the attractions of Nelson Yu Lik-wai's painstakingly lit handheld cinematography (locating precisely the energy and texture of real-world Paris), Juliette Welfling's bustling editing and, for those so inclined, no shortage of hot sex between the two awfully pretty leads. I've had worse times in a competition film.
——————–
Which provides me with a neat segue to my first walkout of the festival: "A Scorching Summer," the latest meditation/catnap on Gallic romantic mores and tortured artistic process from divisive late-nouvelle vague veteran Philippe Garrel. The kind of film where efficiently wit-free characters whine idly that, "without you, my life would crumble into shapeless ruins," without a flicker of recognition as to how shapeless their lives already are.
Chronicling the interpenetration and consequent deterioration of two couples' relationships — principal players include Monica Bellucci and the director's son, the indefatigably gormless Louis Garrel — as they idly paint and film and fuck through an endless Roman summer, the film builds unenthusiastically to a head that I couldn't possibly tell you about — as an hour in, a considerably more experienced and esteemed critic friend of mine leaned over and said, "Screw this, let's get dinner." There was little reason to stay: Garrel had already written his own best review early on with the line, "All that dead beauty is so uninspiring." Word.
Later: reflections on a quieter Saturday of screenings, with new films from Marjane Satrapi, Chantal Akerman and James Franco. Stay tuned, and follow my Twitter feed for quicker (if still at the mercy of Venetian wi-fi) reactions.
[Photo: Venice Film Festival]