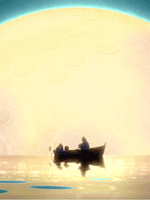 Yesterday before the 3D screening of Wim Wenders's "Pina," the audience was treated to Pixar's latest animated short (which was also shown to audiences, I believe, at the D23 convention last month). I felt like it deserved some notice here, because it's my favorite short from the studio in quite some time.
I greatly admired "Day & Night," which was attached to last year's "Toy Story 3." I wasn't too keen on "Partly Cloudy" (which accompanied "Up" in theaters) and "Presto," which tagged along with "WALL-E," was cute and a nice ode. But the last Pixar short that I really got all that jazzed about was "Lifted," Gary Rydstrom's nifty, though admittedly slight, 2006 UFO abduction spoof.
"La Luna" is my favorite since then, and probably since "Gerri's Game" way back in 1997. It's a delightful piece about finding your own way and eschewing expectations for your own identity, all built within a typically magical and imaginative narrative, and it doesn't stoop to being blatant about its message. It's also rendered with some of the best animation we've seen yet from the studio.
That's all. Just a tip of the hat to that. I can't imagine it won't pop up as a nominee for Best Animated Short next year at the Oscars after premiering with "Brave." Here's a short clip:
[Photo: Pixar Animation Studios]