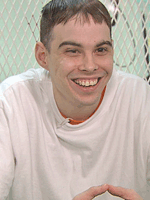 The weather is keeping up here, with rain only threatening a drop or two here and there. As festival co-director Julie Huntsinger quipped at yesterday's press orientation, there must have been a deal struck with the devil somewhere along the line, because the weather is always miserable here for the three or four weeks leading up to the fest, and then, on the Thursday when most arrive in town, the clouds part and the air clears and the Show is on.
After sitting down for a few choice minutes with Glenn Close earlier this morning, I hoofed it up the hill a bit to the Palm theater and my first screening of the day, and, well, it was impactful, to say the least.
Werner Herzog is a movie deity to me. "Aguirre, the Wrath of God" is a top 15 all time kind of film in my view. His work with Klaus Kinski so many years ago is the sort of cinema madness that digs under your skin and I just love it. But his feature work as of late has left me a bit cold, while his documentary work — an obvious passion for him these days — hasn't registered for me despite much acclaim.
That all changed this afternoon when I was pretty much leveled by "Into the Abyss: A Tale of Death, a Tale of Life." With it, Herzog has manifested a crucial viewing experience.
In short, the film is a penetrating, comprehensive look at the issue of capital punishment by way of studying the circumstances and prominent figures in the case of Michael Perry and Jason Burkett, two Texas youths who were accused of a triple homicide in 2001. Burkett was sentenced to life in prison. Perry was sentenced to death. Both blame the other for the crime.
Herzog spends a swift amount of time at the top laying out the basic elements of the case before digging into his purpose for making the film. And he comes right out with his opinion early on, from behind the camera, addressing Perry on death row: "I may not like you. But I respect you. You are a human being, and I don't believe that human beings should be executed."
Whatever your position on capital punishment, the film is necessary, plain and simple. If you believe in it, you need to spend the time Herzog does with the family and friends of the accused, peeling back the layers of judgment and digging to the root of his thesis: all life is precious. If you don't believe in it, you need to witness the pain of the victims' families, as Herzog conveys it, and the cold brutality of the more sterile portions dedicated to forensics and consideration of the crimes. It isn't for the purpose of swaying opinion, I feel, so much as the purpose of educating whatever opinion you might have.
I was reminded of a moment in grad school a few years back that kind of stuck with me. My media law professor held up a gruesome image of an executed criminal post-electrocution that was splattered on newspapers decades ago, the kind you simply wouldn't expect to see today. "California has the death penalty," he said. "Should this image be on newspapers today?"
Most, if not all, said no, it's too gruesome, etc. But his response was powerful: "This is done in your name." These aren't really matters that should be dealt with in discreet terms when one considers the stakes. If you are going to take a pro stance, the ugly truth should not be out of your gaze.
But it works both ways. And Herzog's film is a remarkably balanced portrait (those who support the death penalty may even come away thinking he's made their case), even if his admission at the top clues the audience in to his leanings here and there. But most importantly, it's a non-judgmental portrait. His goal is to reveal the circumstances of all involved, not just the chilly facts as documented in a court setting. The world is gray.
He concludes with Fred Allen, a former Texas corrections officer who saw the execution of more than 120 people in his time. When Karla Faye Tucker, the first woman ever executed in Texas, was put to death, he finally had a breakdown and said no more. "No one has the right to take another life," he says in the film. "I don't care if it's the law." He quit his job at the risk of losing his pension, but his conscious was finally somewhat clear.
I happen to believe in capital punishment, situationally, but I'm not interested in debating the politics of that in this space. I just think it's worth it to give my perspective. The point is I found this film incredibly poignant, the best of the festival for me so far, and absolutely crucial viewing for anyone who thinks he or she has an opinion on the matter. It simply isn't right to have that opinion safely, from a distance. The stakes are too high.
[Photo: Sundance Selects]