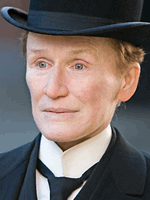 Hats off to Glenn Close. Really. When you've lived with and loved a role and a story for as long as she's hung on to "Albert Nobbs" (which she first performed as a play way back in 1982), you deserve a pat on the back.
She's been trying to get this made as a film ever since she stumbled onto the George Moore short story, and even saw things fall apart 10 years ago when she was oh so close (no pun intended). Finally, it's a reality, thanks to filmmaker Rodrigo Garcia. But with great passion can come, often, blinders to the flaws of a story.
The film tells the tale of Albert Nobbs, who appears to merely be a "kind little man," a hotel waiter in 19th-century Ireland. Or so it would seem. In reality, Nobbs is an older woman posing as a man in a male-dominated society, glacially putting together the funds to live her dream: purchasing a small shop and selling, oh, tobacco will do.
Both the charm and the tragedy of the piece comes in that naivete. We learn in back story conveyed to a confidante of an unfortunate circumstance in Nobbs's past, one that robbed her of an innocence far too young and perhaps froze her there permanently.
It's an intriguing character, but one that feels somewhat closed off to the audience. That works, given the circumstances, up to a point, but before long it becomes of a piece with the film's claustrophobic nature: it never really breaks out of its stage roots. A well-rounded ensemble helps matters by livening the proceedings up, but the film is also structured in a peculiar way, the story never opening up into considerable philosophical stakes.
All of that said, Close is fantastic in the role of Nobbs. It's the kind of performance that ought to merit an Oscar nomination, should Roadside find traction (and put a lot of effort into the built-in narrative of the actress's under-appreciation in matters of film awards). She knows the part all too well and she gives Nobbs a life and a sparkle that isn't there on the page. Performances from Janet McTeer, as a painter in a similar situation, and Mia Wasikowska, as a hotel waitress who becomes the object of Nobbs's affection, are also worth mentioning.
In any case, even though I don't think the film ever really taps a pulse, I'm finding it difficult to be too hard on it. Again, it's lovely to see a passion project finally see its way to fruition and I don't think anyone can rain on Close's parade for that. I look forward to discussing all of that with her tomorrow morning.
[Photo: Roadside Attractions]