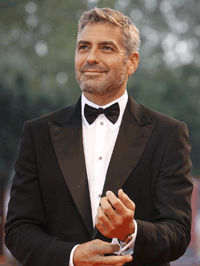 George Clooney has been tapped this year for one of Telluride's three big tributes, and it's certainly the biggest of the trio. Whether it's press and patrons schmoozing with the star at yesterday's Patron Brunch, whispers around town ("Did you hear George Clooney is here?" "I really hope 'The Ides of March' is a TBA.") or the ecstatic response to Alexander Payne's "The Descendants," this mountain burgh has been taken by Clooney fever.
It's a curious thing to see happen here at a festival that is so smooth and cool and not at all phased by celebrity. Clooney changes all those rules, though. And most of it has to be owed to his trooper disposition and charming charisma. He's always "on," and just about everyone wants to just throw back a few with the guy. Men want to be him, women want to…well, you get my drift.
I tend to stay away from the tributes and spend that time taking in a film at Telluride. But since the actor is set to be feted later this evening, I thought I'd at least dedicate some space to his still in-progress career and the highlights that have brought him to this point.
It's interesting that the actor's first real film of consequence, landing right in the midst of his stardom rise due to TV's "E.R.," was the Quentin Tarantino-scripted, Robert Rodriguez-helmed "From Dusk Till Dawn." To this day, it contains one of my favorite lines, largely because of Clooney's delivery: "Psychos? No, they weren't psychos. Psychos don't explode when sunlight hits them." It was a delicious romp, respected here and there for its camp-gore value, and I'll happily admit, I love the film.
From there it was the romantic comedy "One Fine Day" with Michelle Pfeiffer (another film I…well, yeah, I kind of liked it) and the near career-killer "Batman & Robin." Clooney's ability to shrug off that film's utter failure and be self-effacing (he frequently quipped that he killed the Batman franchise, before Christopher Nolan changed all of that) is the exact kind of charm that would keep him in Hollywood's good graces for years to come.
Then came his first great performance, in a truly great piece of cinema: Steven Soderbergh's "Out of Sight." It was the start of a wonderful working relationship that took chances and made commercial moves with equal measure.
Along with just about half of Hollywood, he was largely obliterated from Terrence Malick's "The Thin Red Line," and he was infamously involved in on-set quarreling with director David O. Russell while filming "Three Kings" (a fantastic film with a somewhat restrained Clooney performance).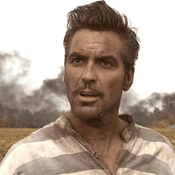 The first of two collaborations with the Coen brothers came at the turn of the millennium with "O Brother, Where Art Thou?" It was also the beginning of his experience with major film awards as he took home the Golden Globe for Best Actor in a Comedy or Musical.
Some dabbling in blockbuster entertainment came in "The Perfect Storm" earlier that year, but after 2000, it was largely about Section Eight and his collaborations with Soderbergh: the "Ocean's Eleven" franchise, "Solaris" and, ultimately, their last collaboration in "The Good German."
Also during this time, Clooney tried his hand at directing, impressively delivering Charlie Kaufman's more accessible screenplay offering of the early aughts, "Confessions of a Dangerous Mind." More Coens came with "Intolerable Cruelty" (which misfired a bit) and finally, in 2005, Oscar came calling.
First it was "Syriana," Stephen Gaghan's dense if muddled take on the politics of oil in the Middle East. Clooney would stir talk all season long for his performance as a CIA operative in the film, and eventually, he'd take home the Oscar for Best Supporting Actor.
But also hitting on all cylinders along the circuit that year was Clooney's second directorial stab, "Good Night, and Good Luck." His ode to his father's work, journalism, and a reverential study of beacon of the industry Edward R. Murrow, the film racked up a number of nominations, including two for Clooney himself for Best Original Screenplay and Best Director.
After the working relationship with Soderbergh fizzled, it was yet another Oscar play in 2007 with Tony Gilroy's "Michael Clayton." A tight, well-regarded film in the vein of 1970s dramatic cinema, Clooney was particularly praised for his contained, controlled work on the screen. An Oscar nomination was definitely in the cards, as well as a handful of critics awards.
He dipped into comedy after that, helming the slight "Leatherheads" and diving back in with the Coens on "Burn After Reading" (as well as having fun with his friend Grant Heslov's absurd "The Men Who Stare at Goats") before courting the circuit yet again with Jason Reitman's "Up in the Air," which first made a splash right here at Telluride in 2009. More awards were in store for that film, as well as another Oscar nomination. He also tried voice work that year (after some "South Park" fun in the 1990s), tackling the lead of Wes Anderson's animated "The Fantastic Mr. Fox."
Last year brought the admirable Anton Corbijn film "The American," which actually presented one of Clooney's finest performances to date, an anti-star film with a star stretching himself therein. Unfortunately, it was mostly done for after an early September release.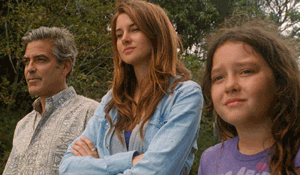 And now, another one-two punch. "The Ides of March," his fourth directorial effort, bowed at the Venice film fest last week to mixed-to-positive reviews, proving to most that it will be a player in this year's Oscar race. And he's in Alexander Payne's "The Descendants," the big dog of this year's Telluride fest and the centerpiece for his tribute tonight.
Clooney's work in the film is, perhaps, his finest to date. As I noted in my expanded thoughts on the film, "the actor really allows himself to stay under the directorial vision of the film while never losing any of the charm and charisma of his star." And, really, it's more than that. You can see Clooney striving for something more, something deeper than anything he's accomplished to date in this film. It is, without question, his most meaningful performance yet, a touching, authentic, genuinely moving reflection of a desire for resolution, for catharsis, for love and for understanding.
One could think of no better time to laud Clooney in this way, and indeed, tonight's festivities will likely be the starting gun in the actor's march through the season toward his fourth Oscar nomination as an actor. So get ready to hear a lot more about him throughout the season.
[Photos: Getty Images, Buena Vista Pictures, Fox Searchlight Pictures]