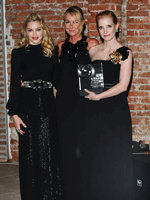 Nathaniel Rogers tipped me off today to the fact that Jessica Chastain has won her first (of many?) award of the season in Venice. The prize, presented by "W.E." director Madonna, was the Gucci Award for Women in Film. And it's a pretty good pick when you consider how prolific she is this year.
Chastain is at the fest with two films — "Wilde Salome" and "Texas Killing Fields" — but of course she's been seen in everything from "The Tree of Life" to "The Help" to "The Debt" this year, with Sundance and Cannes hit "Take Shelter" and Weinstein-pushed "Coriolanus" still to hit Toronto and open in theaters. Seven movies? A little difficult to argue with that, especially since she gives quality work across the board (though I haven't seen the Venice films).
It really would be a shame if she couldn't get enough of a groundswell to nab an Oscar nod for something (I prefer her in "The Help"), but she's assured any number of precursor honors for her body of work throughout the season.
Writes Rogers:
What a summer. It starts with a Cannes trip alongside Brad Pitt and three months later she's part of a $100 million hit and Madonna (that's right, Madonna) is handing her trophies. From Brad Pitt to Madonna all in the same summer. Hopefully her eyes have adjusted to traveling in these blinding megawatt circles.
[Photo: Getty Images]