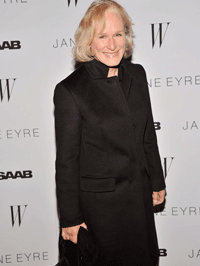 Telluride Film Festival
Actress Glenn Close has known the title character of "Albert Nobbs" for nearly 30 years. Ever since she was first asked to audition for the play "The Singular Life of Albert Nobbs" in 1982, which brought her to George Moore's short story about a woman living as a male waiter in male-dominated 19th Century Ireland. That's a long time for any performer to live with a role, and it takes a special breed of stick-to-it-tiveness to see the journey she's seen for the character all the way to the big screen.
"It's always been a little surreal," the actress says at the Chuck Jones Theater after introducing the film to its second crowd here at Telluride. "Every morning when I would go to the set, I couldn't believe that, something that's been in my head so long, people were actually working on this movie."
The role originally sparked Close's interest because of the inherent challenges it presented. Servants in that era, she notes, were not supposed to look people in the eye. They were meant to be invisible. And here is a character, invisible in her own right by virtue of her secret, also in a profession where she must be under the radar. It wasn't an opportunity to be emotionally expressive for much of the narrative, but Close says that was an attraction to the part.
"It's tricky," she says. "The challenge was, how much do you show? How much do you show in her face? Because she's so used to having nothing there."
Indeed, Albert's story is one of repression. Revealed later in the film to have been a rape victim at a young age, her identity was frozen there. The naiveté left is very powerful, Close says, but it's also undeniably tragic. Yet, Albert's most endearing characteristic has to be the passion that lies deep within.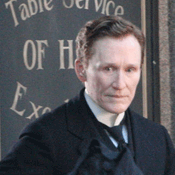 Albert is a dreamer, hoping some day to save enough money to own a little shop, perhaps live by the sea. But it's a dream always just out of reach due to her circumstances. The parallels with Close's own experience trying to get the film made are interesting to note.
"It's such a weird story that it was hard for people to imagine reading on the page," she admits, "try as I would with my stage directions to get people in the emotional place. I guess I just wasn't willing to admit defeat. In my profession there are many disappointments and for so long you don't know where your next job is coming from."
She says she never resented it if people didn't get her vision for the project. She didn't expect them to get her vision. She expected them to respect her talent and track record and the cast and crew she helped assemble for the film. As she notes is true of all independent cinema, you have to find people with a passion that, at the end of the day, the film will be made.
Having worked with director Rodrigo García on two previous films, Close felt very in tune with his sensibilities and finally felt he would be the one to see her dream to fruition.
"I think he really, really gets women," she says. "And he's not really intimidated by women. He was raised with a great mother, a great grandmother, his father, Gabriel García Márquez, is one of the great lovers of women. So he just has that sensibility, and he's a beautiful writer himself. I just thought his pedigree, the kind of sensibility coming out of these South American directors, would be right for this, because it requires a very light touch. And he got the comedy."
The film itself is ultimately about identity as much as it is about dreams. There's a scene in the film when Albert, having found a confidante in a female painter posing as a man (played by Janet McTeer), finally gets a moment to experience the freedom of what she thinks is her true identity. The two don dresses and take to the beach. Lifted by the exhilaration of finally being open about her truth after so long, Albert runs along the shore. But finally, she trips, and stumbles to the ground.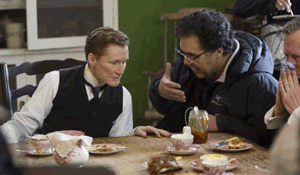 The point is that this isn't who she is, either. "She's a strange hybrid," Close says. "She's still very separate from her body. She's more comfortable now in her guise as a man than she would as a woman. If she went into a dress she wouldn't know how to behave. She's caught in the middle. In the story, George Moore calls her a perhapser."
But while Albert's dreams always feel so out of reach in the film, Close can now breathe a sigh of relief that hers is a reality.
"I knew that among a vast beach of white pebbles we had to find a couple of pearls," she says. "I just wasn't willing to end my career not having done it."
"Albert Nobbs" will continue to show here at Telluride before moving to the Toronto International Film Festival later this month. Roadside Attractions will release the film stateside this fall.
[Photos: Getty Images, Roadside Attractions]